Concrete conveying pump with diesel engine application
2018-12-10 10:12:32
Secondary constructional column concrete conveying pump has the characteristics of small volume, light weight, simple structure and so on.
This machine is a kind of special pump valve combination driven by motor and a concrete pump constructed by hydraulic pump flow system, which can realize long-distance conveying and pouring concrete, and the combination with the injection device can realize the construction of spraying mortar and shotcrete.
This machine system is reliable, the breakdown rate is low, the maintenance is convenient, is the ideal mortar, the fireproof mortar, the fine stone concrete, contains the heavy metal particle mixture transportation equipment.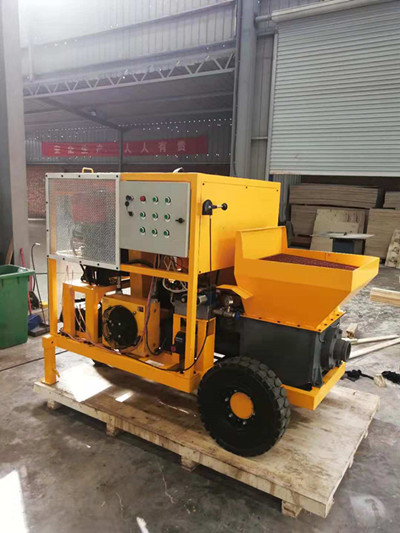 The main technical features are as follows:
1. Distribution valve adopts advanced s-tube valve, good sealing, simple and reliable structure. The box body adopts welded structure, good rigidity, high strength, beautiful appearance.
The eye plate and wear-resisting ring are made of hard alloy with good wear resistance, long service life and convenient replacement.
2. Electronically controlled reversing of hydraulic system. Constant power variable plunger pump, high reliability, long life. The oil tank is equipped with self-sealing oil absorption filter, and the side of the oil tank is opened with a cleaning hole to facilitate maintenance and ensure the cleanliness of the system oil.
3. The electrical system adopts programmable controllers and intermediate relays from of Japan, sensors from France, ac contactors and button switches from electric company and other electrical components, and the protection level can reach very high; Remote control distance of wireless remote control system exceeds 200 meters; Centralized lubrication system is automatically controlled by the program start - stop and operation time. The control circuit is simple and reliable.
4. The pump system has the function of non-polar speed regulation, which solves the problem of different concrete transporters required under various construction conditions and is easy to operate; It has two working modes of low pressure large displacement and high pressure small displacement.
5. The mixing device is sealed reliably and is not easy to leak slurry; Mixing blade structure is reasonable, can adapt to a variety of concrete ratio.
6. The high quality seals are used as the main hydraulic seals to prevent internal and external leakage of the hydraulic system.
7. The oil-air cooler is adopted in the cooling system, with high cooling power, which can effectively reduce the heat generated by the hydraulic system and ensure the working reliability of the hydraulic system.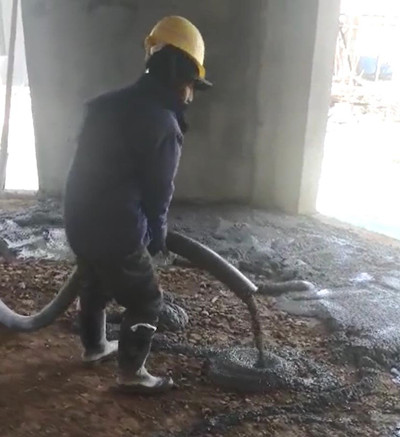 This machine is used in high-rise building ash mortar and fine stone concrete transportation, secondary structure column grouting, various pressure grouting in the reservoir, hydropower station, port and dock, foundation treatment, weak foundation, reinforcement grouting, tunnel, subway, mine construction Medium backfill grouting anchor support, secondary structural column watering, etc.
This product is a new, multi-purpose, multi-purpose industrial pump developed by absorbing advanced technology from abroad. Typical applications include: masonry block filling, wall grouting, hoisting mortar for masonry wall construction; concrete sidewalk and patio slab pumping; low-volume shotcrete.
If you have any unclear, please contact us without hesitation. We will give you feedback at the first time.