■Introduction
► Description:
Spray seeding is more and more applied in road greening. The application of seeding spraying technology in vegetation restoration and slope protection project. Soil spraying seeder involves in planting permanent vegetation, spraying slurry, slope protection,
grassing and erosion prevention.


►
Application:

Soil spraying seeder driven by single diesel, electronic control, easy operation, especially suitable for outdoor conditions, applicable to all kinds of rock slope, hard soil, poor soil, acidic soil, arid zones, clay soil and coastal dam etc.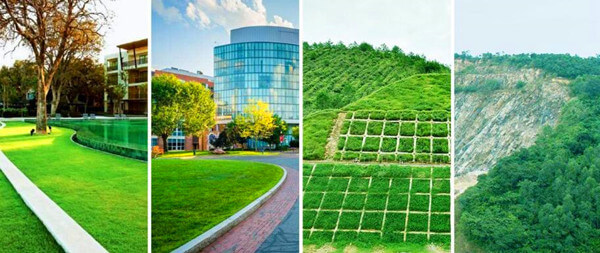 ► Features:

1. High efficiency : using hydraulic pumping method, high reliability, stable conveying ability;

2. long conveying distance , up to 650 m horizontally,160 m vertically;

3. injection quantity is continuously adjustable with variable piston pump , jet speed can be adjusted freely;

4. machine parts consumption is very low , the machine wearing parts life is not less than 2000 cubic meters jetting ability;

5. combined with automatic centralized lubrication system, realizing effective control for the amount of grease filling and filling time, extending life of wear parts;

6. humanized product design, more convenient operation, more simple maintenance, reliability has been effectively guaranteed;

7. Advanced technology, it even works for mud materials which have poor mobility, no blocking, and no stopping, well adaptation of various materials, big output pressure;

8. blades mixing and circular spray, are powerful enough to ensure the spraying mixture in the planting process is in fully suspended and fully mixed stated, evenly emitting the mixture of raw materials at one time;

9. This machine has wide usage, not only can be applied in spraying planting for soil improvement work. This machine can emit slurry materials with big proportion, high and super concentration;

10. Our slope soil spraying machine can also be used in plain concrete and fiber reinforced concrete conveying in various construction sites.
■Product Details
■Technical Parameters
Model
Unit
LKP-15SR
LKP-25SR
Max. Injection capacity (theory)
m³/h
15
25
Max. pumping pressure
Mpa
10
14
Max. vertical conveying distance (theory)
m
120
160
Max. horizontal conveying distance (theory)
m
500
650
Distributing valve form
S valve
S valve
Max. Aggregate size
mm
30
30
Slump
cm
12~23
12~23
Rebound Rate
%
less than 15
less than 15
Working dust density (machine)
mg/m³
less than 10
less than 10
Transporting cylinder diameter * stroke
mm
140*1000
140*1000
Diesel engine power
kw
50.6
61.6
Rated rotating speed
rpm
1800
1500
The hydraulic oil tank volume
L
350
350
The fuel tank volume
L
60
60
Feeding height
mm
1200
1200
Overall dimension
mm
4550*1680*1950
Weight
kg
2850
3000