■Introduction
►
Description:
LGP1000/2X75/100PI-E automatic grouting plant is a combination of mixer, circulating pump and grouting pump in one frame, it is very easy to operate and move. LGP1000/2X75/100PI-E automatic grout mixing plant is mainly used to be made and grouted the cement slurry in hydropower, mining, highway, railway, construction, and other ground and underground construction applications.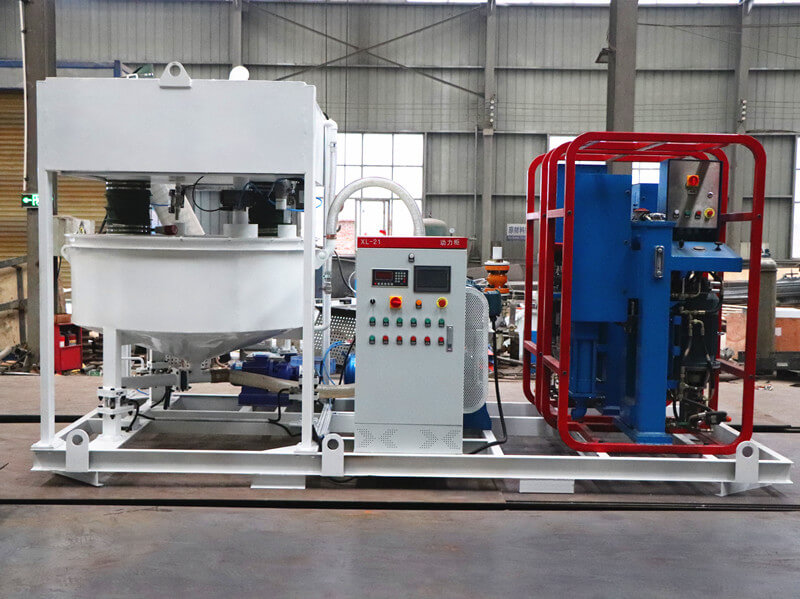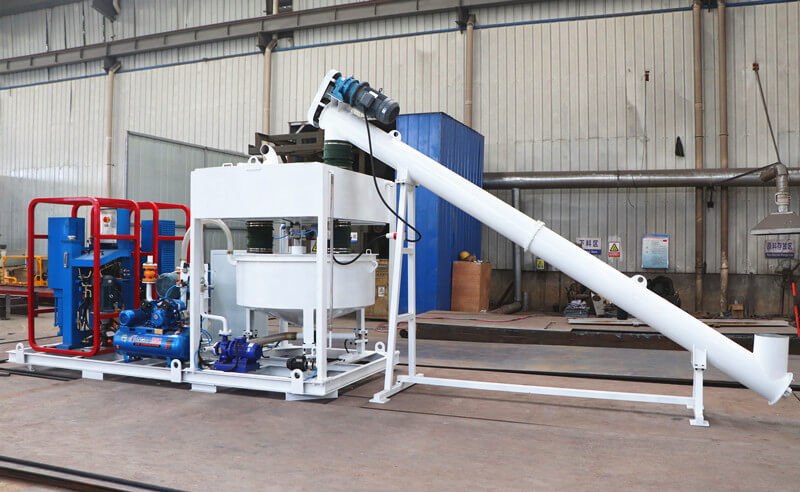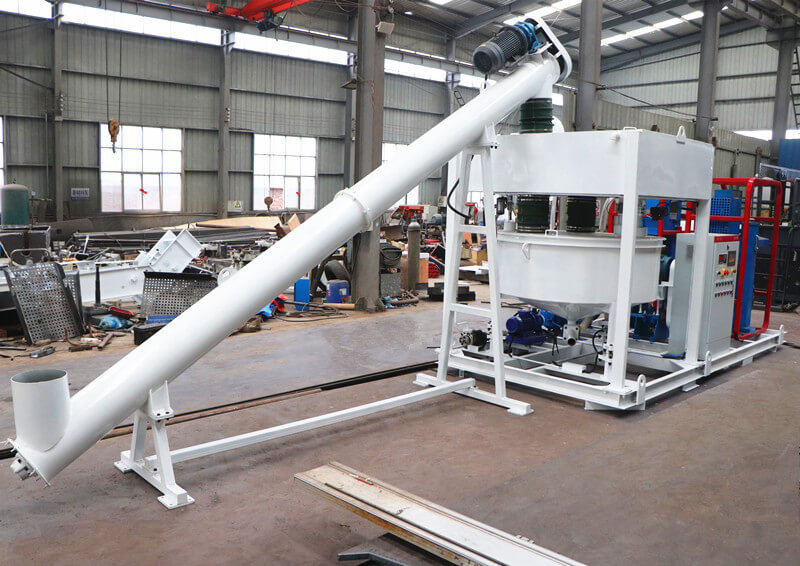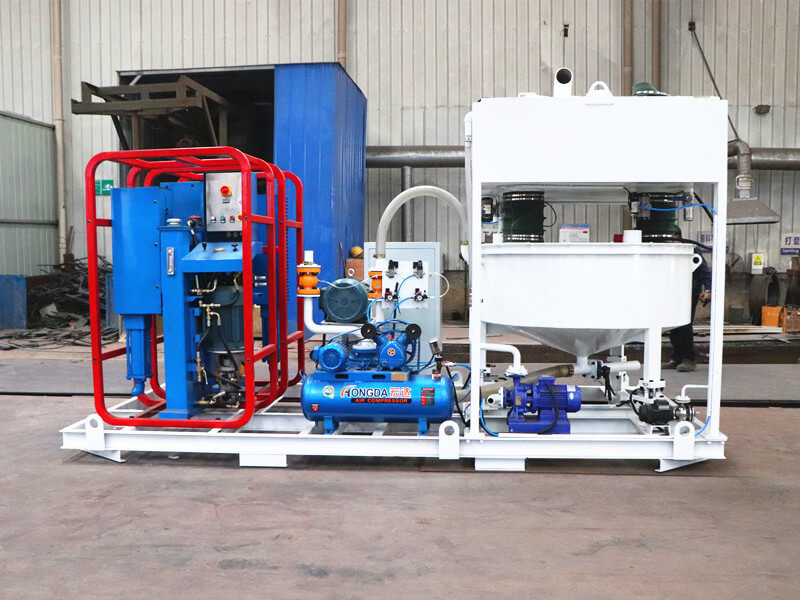 LGP1000/2X75/100PI-E fully automatic grout plant is integrated with the load cell, PLC, can freely adjust the proportion of water, cement, additives, can be set according to the formula of automatic configuration of materials, greatly improve the work efficiency.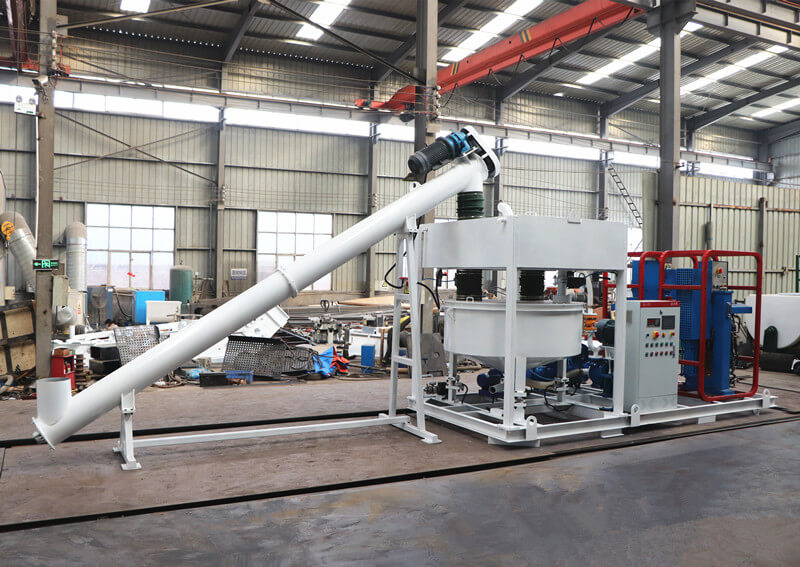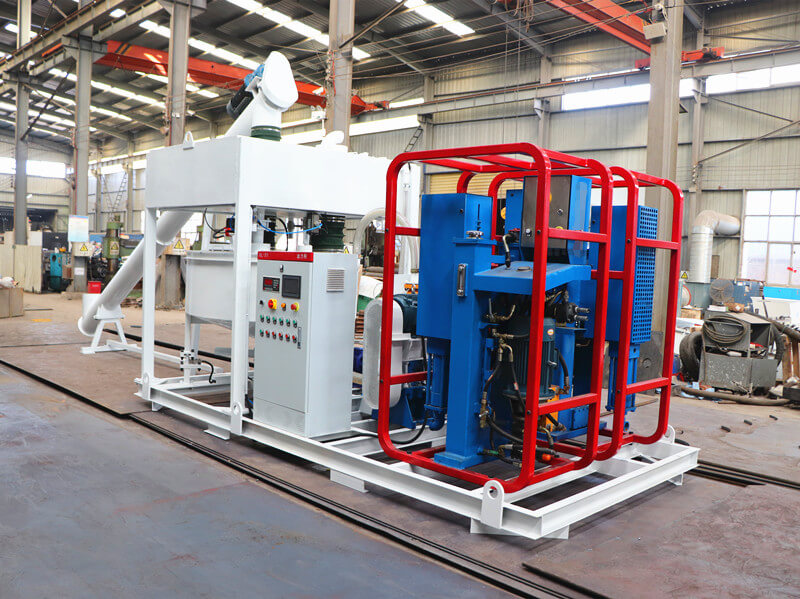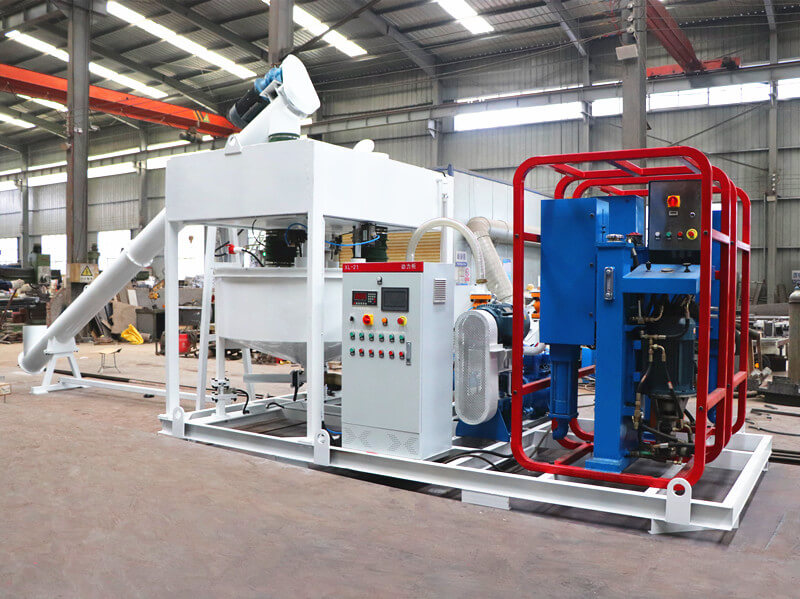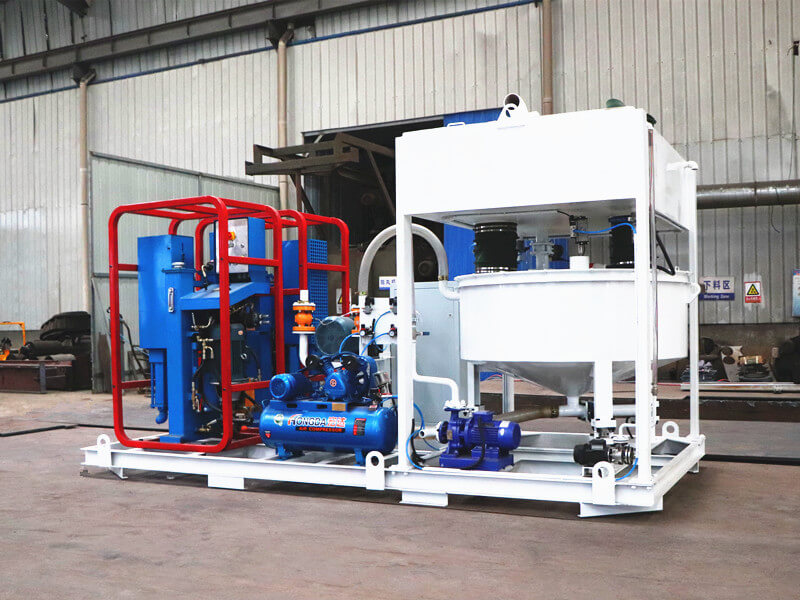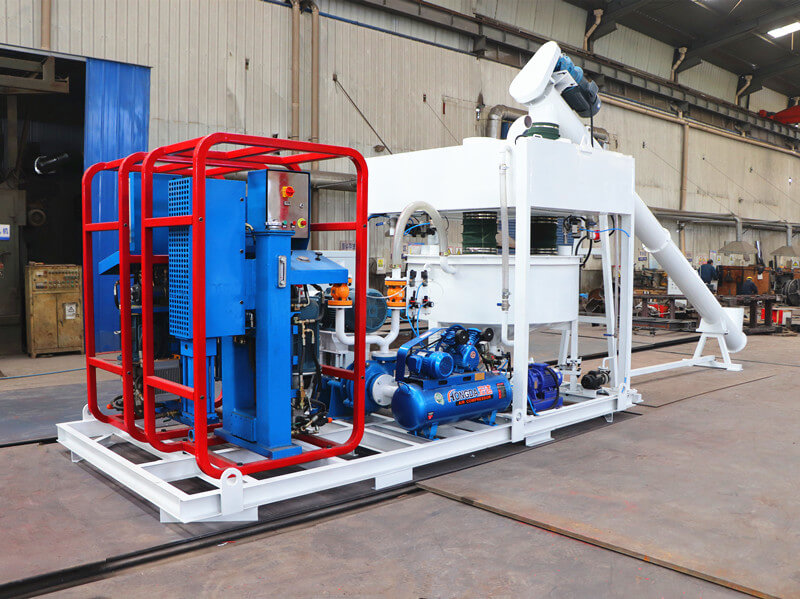 Working principle of LGP1000/2X75/100PI-E Automatic Grouting Plant:
Water, cement is quickly mixed into a uniform slurry. High speed eddy current mixer ensures fast and even mixing. Automatic grouting plant is specially designed for cement and water mixed projects. Its advantage is continuous mixing and grouting. The mix tank is for fast mixing. The grout is then transferred to the grouting pump, which ensures continuous mixing and grout operations.

Details Instructions of LGP1000/2X75/100PI-E Compact Grouting Plant: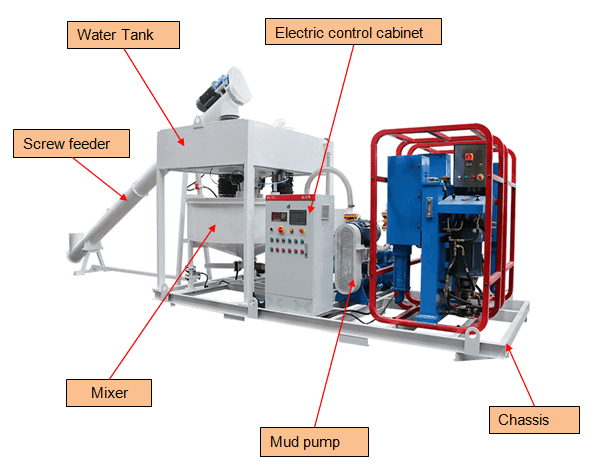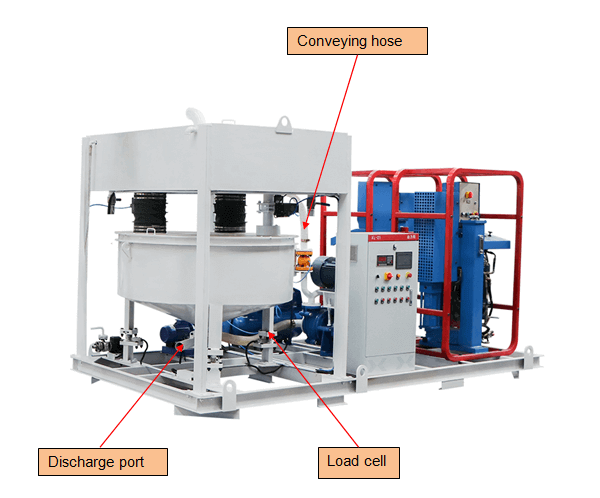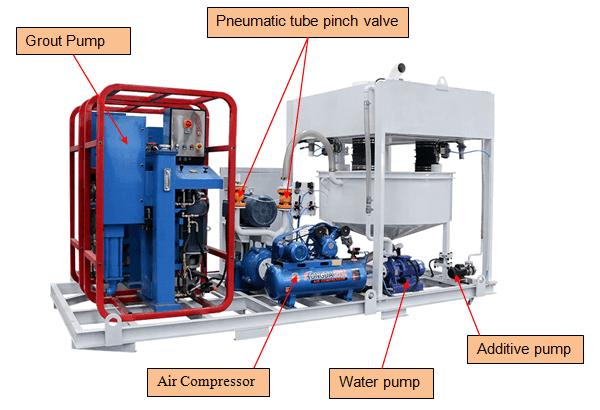 ► Application:

Automatic colloidal grouting plant is mainly used for making cement slurry, etc., which is applied to surface/underground construction, such as highway, railway, hydropower, construction, mining, etc.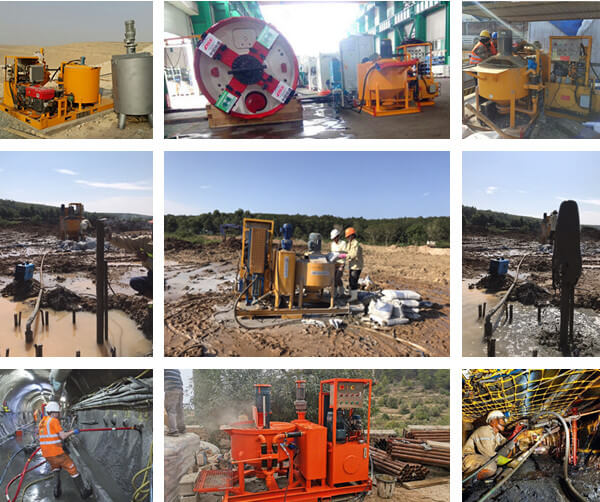 ► Features:

1. Automatic grouting equipment is with CE, ISO certification.
2. Compact structure, a whole plant with mixing and grouting.
3. Automated mixing and grouting plant is simple operation and easy maintenance.
4. There are two operation modes: automatic mode and manual mode.
5. Less spare parts ensure low maintenance costs.
6. High speed vortex mixer ensures mix quickly and evenly.
7. The proportion of materials in the formula can be adjusted freely.
8. It can realize automatic configuration and replenishment of materials.
9. Flameproof electric cabinet, protection grade IP56.
10. Tank body manufactured by the thicker plate for more reliable work and longer use life.
11. Standard seal parts to ensure excellent seal quality.
■Product Details
■Technical Parameters
Name
Data
Type
LGP1000/2X75/100PI-E Automatic Grouting Plant
Max. Mixing Capacity
10m3/h
Grouting Pump
2X75L/min@5MPa
Mixer
Capacity
1000L
W/C ratio
0.5~1
Circulating Pump
Power
15KW
Rate Rev.
1800r/min
Flow
1100L/min
Screw feeder
Power
7.5KW
Delivery volume
50t/h
Water pump
Mode
ISW50-160(2.2KW)
Flow@head
8.3m3/h@30.2m
Additive pump
Mode
ISW50-125(0.25KW)
Flow@head
2m3/h@10m
Air compressor
Mode
VA80-3KW
Exhaust volume
0.3m3/min
Power requirements
Voltage 3 Phase 380V,50Hz
Dimension
3600×2060×2520mm
(Screw feeder is not included)
Weight
2820Kg
Note: We can customize Grouting Plant / Station according to your requirements.