■Introduction
►
Description:

LGP400/700/320/100TPI-E Grout plant for foundation grouting has compact size, and it takes up a small space. It is a combination of mixer, agitator and grout pump in one base frame. We can provide the grout plant to the dam, mining, construction and tunnelling industries. Our flagship product is our renowned range of colloidal grout plant for foundation grouting series.


Water, cement or bentonite is quickly mixed into a homogeneous slurry. The mixed slurry is then delivered to the grout agitator. The grouting pump is injected from the mixing drum storage tank). This ensures continuous mixing and grouting operations. The grouting plant is driven by an electric motor. The grout pressure and displacement are adjustable.
It is with colloidal high speed grout mixer, the grout mixer volume is 400L, grout agitator volume is 700L, grout pressure of slurry pump is 22-100Bar, grout flow of slurry grout pump is 118-320L/min, the colloidal grout mixer is one vortex mixer could make sure mix cement slurry evenly and more quickly. The specially designed tanks and pumps make the LGP400/700/320/100TPI-E Grout plant for foundation grouting both efficient and cost-effective.

If you want to know more details about our grout unit for foundation grouting, you can contact us directly, email address: sales@leadcrete.com
Model Definition of
LGP400/700/320/100TPI-E
grout mixing plant for foundation grouting: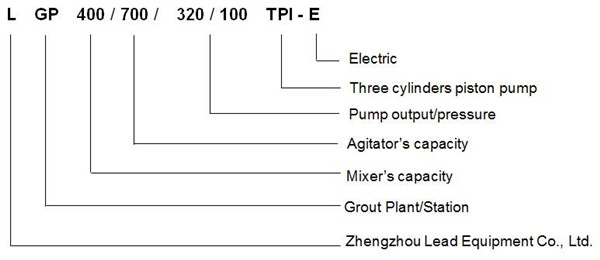 ► Application:


LGP400/700/320/100TPI-E grout station for foundation grouting is mainly used to be made bentonite slurry, cement slurry, etc., in the application highway, railway, hydropower, construction, mining and other ground and underground construction.

►
Features:
1. Three cylinders piston pump with single acting to ensure the continuous slurry flowing (small pulse) and not easily leaking compared with the double acting piston pump.
2. Grouting pressure and displacement is adjustable.
3. The function switch between mixer and pulping machine is realized by using squeeze switch.
4. Triplex single acting reciprocating piston pump acted as universal grouting applications.
5. Grout mixer and pump for foundation grouting is easy to operate and maintain.
6. Up to 5mm particle size.

Main component of foundation grouting grout plant: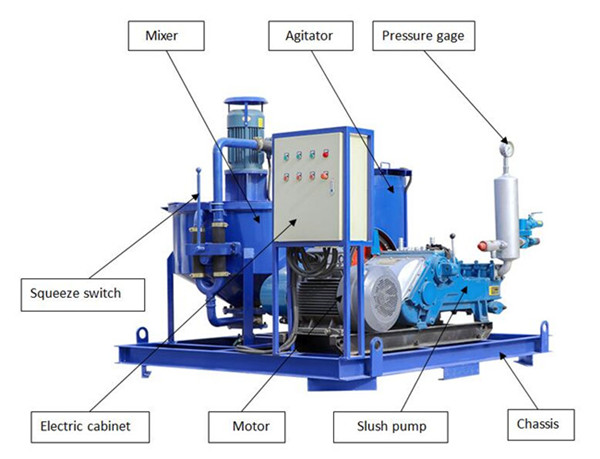 ■Product Details
■Technical Parameters
Name

Data

Type

LGP400/700/320/100TPI-E Grout plant for foundation grouting

Mixer

Volume(L)

400

Speed(rpm)

1500

Agitator

Volume(L)

700

Speed(rpm)

45

Power(KW)

1.5

Grouting pump

Stroke (mm)

110

Cylinder diameter (mm)

80

Pump speed (Times/min)

214

153

109

78

Flow(L/min)

320

230

165

118

Pressure(MPa)

2.2

3.6

6.2

10

Power(KW)

30

Dimension

Dimension(mm)

2300×2100×1880

Weight(KG)

1500