■Introduction
► Description:
The LGP200/300/100PI-D Grouting Injection Plant is combination of mixer, agitator and hydraulic plunger grout pump in one plant. Mainly suitable for mixing and pumping water, cement, sand, bentonite, filler, clay power, silicates and other additives.

► Application:
1. Civil Engineering - dam foundations, tunnels, mining, soil nails, tiebacks, earth anchors, cable and rock bolts.
2. Structural – building and bridge restoration, foundation stabilization, foundation raising, soil compaction grouting; soil & rock grouting.
3. Construction - pavement under sealing, slab jacking and slab raising.
4. Marine - underwater foundations, piers, breakers, shoreline foundations.
5. Mining - tunnel lining, contact grouting, shaft waterproofing.
6. Utilities - encasements, waterproofing, slope line grouting.
7. Geotechnical - deep well casing, monitor wells, well sealing and abandonment.

► Features:
1. Deutz diesel engine.

2. It is combination of mixer, agitator and hydraulic grout pump in one base frame.
3. Yuken reversing valve for hydraulic system of grout pump.
4. Butterfly valve of mixer and agitator.
5. Linked switch between mixer and agitator.
6. Oil temperature gauge can automatically control cooler fan working in normal temperature range, if temperature is too high, the machine will stop work automatically.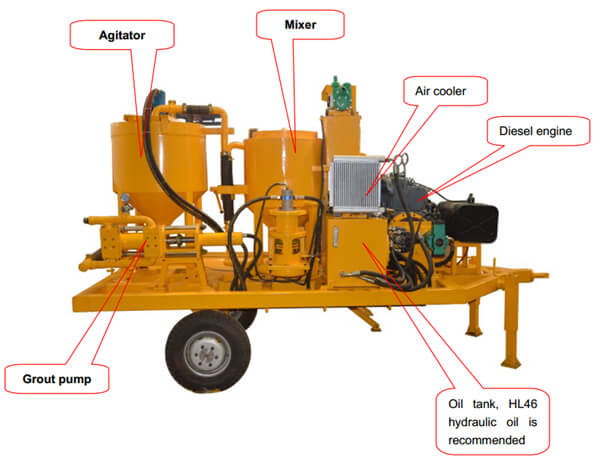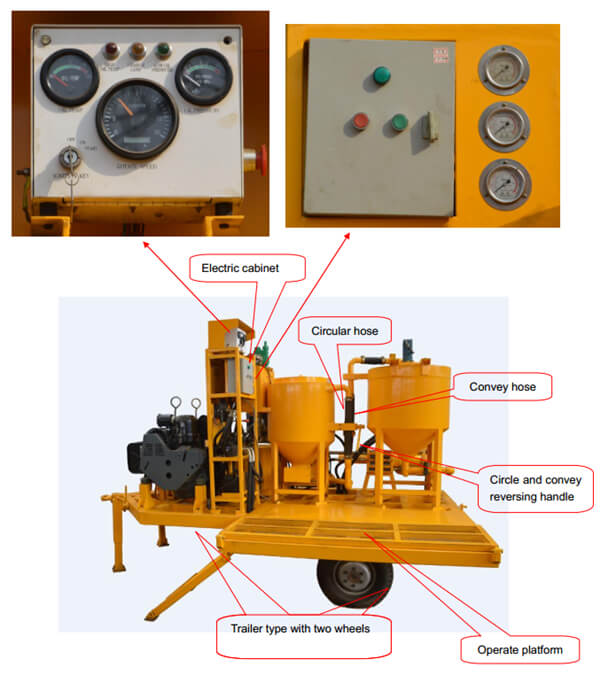 ■Product Details
■Technical Parameters
| | |
| --- | --- |
| Description | Data |
| Grout Station Type | LGP200/300/100PI-D |
| Mixer Volume | 200L |
| Mixer Production(w/c ratio=1) | 4m3/h |
| Circulation Capacity | 1100l/min |
| Suitable W/C Ratio | 0.5 to 1 |
| Mixer Hydraulic Motor | 1450rpm |
| Agitator Volume | 300L |
| Agitator Hydraulic Motor Speed | 36rpm |
| Water Tank | 60L |
| Grout Pump Type | LGH90 |
| Grout Pump Output(Max.) | 100L/min |
| Grout Pump Work Pressure | 10MPa |
| Deutz F3L912 Diesel | 34kw, 2200rpm |
| Grout Station Overall Dimension | 4130x1850x2500mm |
| Grout Station Weight | 2795kg |