■Introduction
►
Description:
LH series industrial hose pump (squeeze pump) consists mainly of pump house, rotor, roller, idle
roller, squeeze tube and driving unit. The squeeze hose is U-shape in pump house, when rotor drives
roller to rotate, hose is deformed. After the roller rotate, the deformed hose recover by its elasticity.
Thus the negative pressure in this hose is generated, sucking slurries, and discharging through outlet
under roller's push, finally forms pressure conveying of slurries.
►
Application:
LH series industrial hose pump are mainly applied in distant conveying, grouting and dosing of viscous
slurries in construction, mining, food, papermaking, ceramic, etc.
LEC industrial peristaltic pumps can be used in following field: Construction, pharmacy, textile mill,
dye making, water treatment, paper making, mining, ceramic, brewery and beverage, underground
engineering, etc. It's perfect to pump corrosive, abrasives, shear sensitive fluids, high viscosity fluids,
high density fluids, large solids, metering(±1%), high pressure(3Mpa).

►
Features:
♦
No seals, no valves.
♦ Self-priming, only tube to replace.
♦ Dr –running without damage, reversible.
♦ No contact between product and mechanical parts.
♦ Able to pump products with solid parts inside.
♦ Easy maintenance, low-cost, short down time.


---
---
►
Tables of LH series industrial hose pump


LH10-190
Capacity: 0.022( L/rev)
Max discharge pressure: 6 bar
Hose inner diameter: 10 (mm)
LH15-200
Capacity: 0.077 (L/rev)
Max discharge pressure: 6 bar
Hose inner diameter: 19 (mm)
LH25-265
Capacity: (0.3 L/rev)
Max discharge pressure: 15 bar
Hose inner diameter: 25 (mm)
LH32-330
Capacity: 0.625 (L/rev)
Max discharge pressure: 15 bar
Hose inner diameter: 32 (mm)
LH38-430
Capacity: 1.25 (L/rev)
Max discharge pressure: 15 bar
Hose inner diameter: 38 (mm)
LH50-558
Capacity: 2.75 (L/rev)
Max discharge pressure: 15 bar
Hose inner diameter: 50 (mm)
LH50-680
Capacity: 3.0 (L/rev)
Max discharge pressure: 15 bar
Hose inner diameter: 50(mm)
LH65-680
Capacity: 5.0 (L/rev)
Max discharge pressure: 12 bar
Hose inner diameter: 65(mm)
LH76-770
Capacity: 7.5(L/rev)
Max discharge pressure: 10 bar
Hose inner diameter: 76 (mm)
LH76-915
Capacity: 9.16(L/rev)
Max discharge pressure: 10 bar
Hose inner diameter: 76 (mm)
LH100-915
Capacity: 17.5 L/rev
Max discharge pressure: 7.5 bar
Hose inner diameter: 100 mm
Note:
1. Intermittent duty: Max. 2 hours working and stop for 1 hour
2. Flow rate takes water as medium
3. You may inquiry to us if the model you need is not listed
■Product Details
■Technical Parameters
►
Dimension of Structure: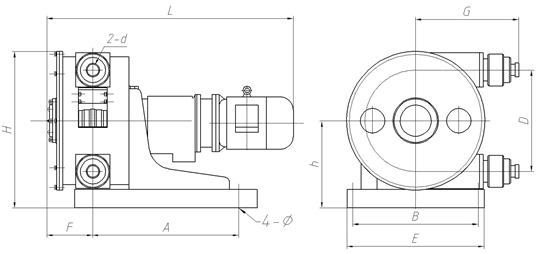 | | | | | | | | | | | | |
| --- | --- | --- | --- | --- | --- | --- | --- | --- | --- | --- | --- |
|   | A | B | D | E | F | G | H | L | h | 2-d | 4-Φ |
| LH10 | 300 | 160 | 190 | 200 | 50 | 180 | 245 | 420 | 135 | 10 | 12 |
| LH15 | 270 | 225 | 200 | 265 | 30 | 190 | 295 | 500 | 160 | 15 | 12 |
| LH25 | 500 | 300 | 265 | 360 | 98 | 245 | 410 | 675 | 230 | 25 | 14 |
| LH32 | 500 | 300 | 330 | 360 | 98 | 245 | 410 | 700 | 230 | 32 | 14 |
| LH38 | 600 | 460 | 430 | 520 | 135 | 350 | 550 | 820 | 300 | 38 | 14 |
| LH50-558 | 700 | 540 | 558 | 60 | 190 | 460 | 665 | 1000 | 360 | 50 | 18 |
| LH50-680 | 800 | 690 | 680 | 750 | 220 | 540 | 800 | 1150 | 420 | 50 | 18 |
| LH65-680 | 800 | 690 | 680 | 750 | 220 | 540 | 800 | 1340 | 420 | 65 | 18 |
| LH76-770 | 900 | 760 | 770 | 800 | 260 | 620 | 900 | 1340 | 480 | 76 | 18 |
| LH76-915 | 1000 | 860 | 915 | 900 | 320 | 700 | 1050 | 1500 | 550 | 76 | 25 |
| LH100 | 1000 | 860 | 915 | 900 | 320 | 700 | 1050 | 1600 | 550 | 100 | 25 |