■Introduction
► Description:

LPD100H Portable DTH drilling machine is hydraulic technology, reasonable configuration, low price and low fuel consumption, it is an ideal DTH drilling rig for all handy drilling work.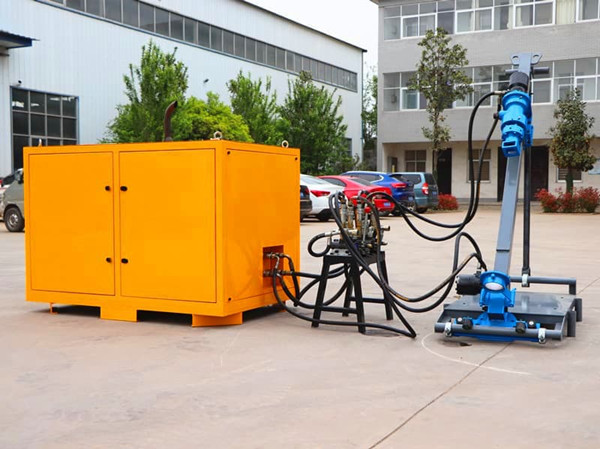 LPD100H Portable blast holes drilling machine can be used with down-the-hole hammer and drill hammer as well as for core drilling. Designed for easy mounting on any type of scaffolding and suitable for wall work. Very light and handy.

LPD100H hydraulic drive super portable, super lightweight hydraulic drive DTH drilling machine: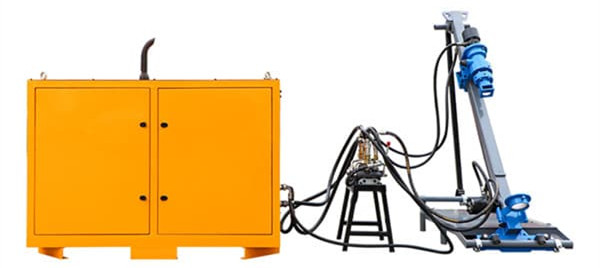 ► Application:

The portable DTH drilling rig has good detachability and is suitable for the original landform operation. Hydraulic portable chain feed drilling machine is widely used for the micropiles, nailing, blast holes, core drilling, exploratory drilling, diamond drilling projects.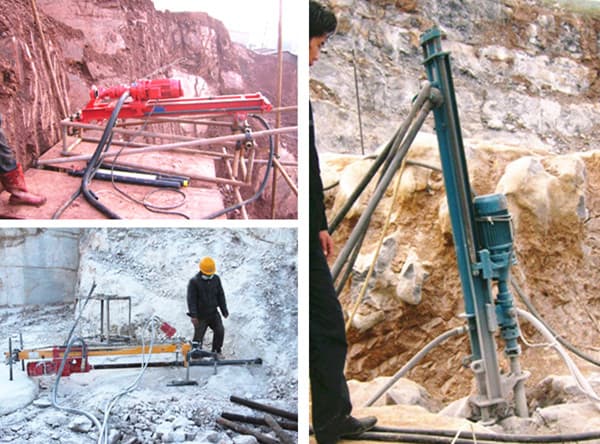 ► Features:
1. High efficiency, good performance
2. Adapt to any geological feature
3. Stable and reliable operation

►
Construction and dimensions
: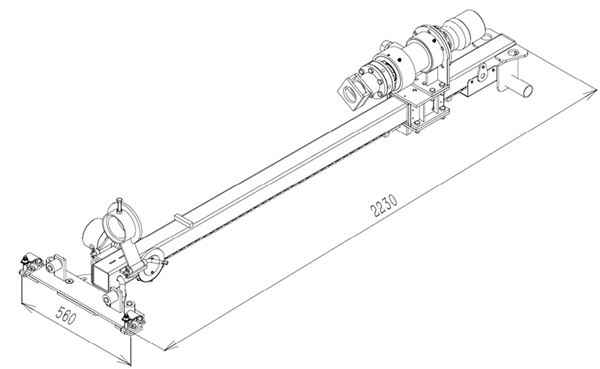 ►
Diesel Drive Hydraulic station
:


All hydraulic pumping station is driven by diesel engine. H
ydraulic power station is e
quipped with cooling system, filtration system, pressure regulating system, pressure and temperature indication and valve control.
The power part is separated from the operation part. Just move the console with the drilling rig separately to realize multi-point operation, with low labor intensity and long service life.
The
hydraulic station
is compact, easy to operate and does not take up space.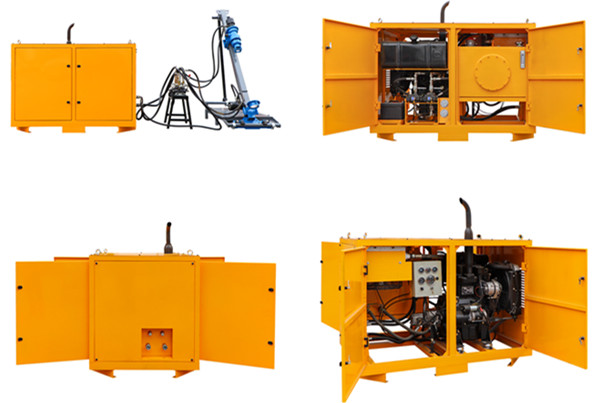 ■Product Details
■Technical Parameters
| | |
| --- | --- |
| Model | LPD100H portable DTH drilling machine |
| Hole Diameter | 80~120mm |
| Hole Depth | 30m |
| Feed Force | 12KN |
| Rotate Speed | 90~120rpm |
| Torque | 1000NM |
| Air Pressure | 0.5~0.7Mpa |
| Air consumption | 7~8m3/min |
| Single feeding distance | 1m |
| Drilling Direction | Any Angle |
| Weight | 86Kg (Only drill machine) |
| Dimension | 2230x560x415mm |
| | |
| --- | --- |
| Type | BHPP15/55X2-26D hydraulic power unit |
| Output capacity | 2x55L/min |
| Outlet pressure | 15MPa |
| Diesel power | Weichai 2110 26KW |
| Dimensions | 1760X1150X1300mm |
| Weight | 960kg |