■Introduction
►
Description:

LGP500/2000/165H-E Cement grout plant for backfill is a combination of mixer machine, agitator and hose grouting pump in one plant, it is simple, compact injection systems, which have proven themselves on construction site for mixing, pumping and grouting cement, bentonite, anchor injection, slurry, fly ash, stone powder, insulation slurry, high solids slurries, sealing wall masses or other filling materials, through the high-speed colloidal grout mixer a homogenus disrupted suspension is produced.

LGP500/2000/165H-E Cement grout plant is connected with cutting-edge technology to realize automatic operation of cement grout plant, LGP500/2000/165H-E is equipped the automatically batching weight system and PLC control system to automate operations. LGP500/2000/165H-E grout station with weigh 200Kg, mixer volume 500L, agitator volume 2000L, hose pump displacement 165L/min, has large volume suitable for large projects.


We could also customize grout plant for backfill according to your demands. If you have cooperation intentions in cement mixing, grouting and grouting plant, please contact us without any hesitation, once confirm the detailed needs on the cement grout plant, better solution will be offered to you at first time.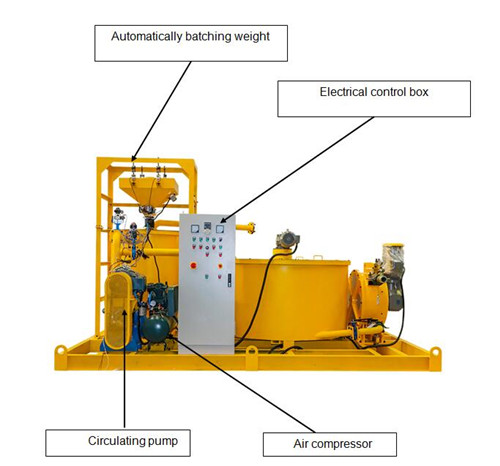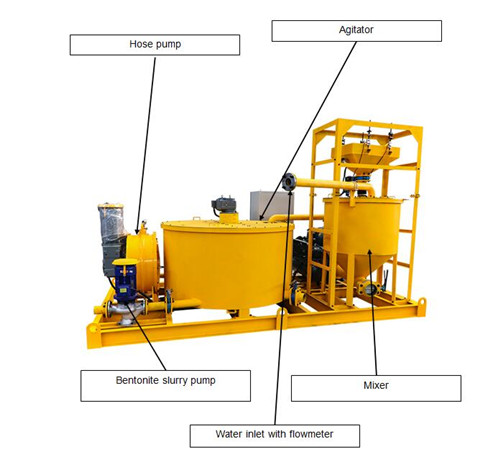 ► Application:

LGP500/2000/165H-E Grout plant for goundation backfill is suitable for all grouting applications with cement and ultra fine cement, bentonite suspensions for micro tunnelling, pipe jacking and directional drilling. The grout equipment mainly used for grout and backfill grout injection in depth shole, TBM tunnel construction or ground and underground construction, such as highways, railways, water and electricity, construction, mining etc.

► Features:
1. Mixer, agitator, hose pump in one frame base, compact size and it is easy to operate. Cement grout plant for cementing 500m depth shole also takes up a small space.
2. Cement grout plant for depth shole is with high turbulence mixing.
3. Heavy duty industrial hose pump.
4. Automatically batching and automatically mixing system.
5. PLC control system, operation mode can be operated automatically and manually.
■Product Details
■Technical Parameters
Type

LGP500/2000/165H-E Cement grout plant for backfill

Weighting

Sensor

S-type tension pressure sensor

Load

200Kg

Output Signal

Current signal

Vibration Motor

24V, 4KN, 0.37Kw

Mixer

Volume

500L

Slurry Pump Power

11Kw

Output

80m3/h

Agitator

Volume

2000L

Geared Motor Power

3Kw

Speed

45rpm

Water Pump Output

15m3/h

Water Pump Power

5.5Kw

Hose pump

Output

165L/min

Pressure

1.0MPa

Power

7.5Kw

Air compressor

2.2Kw

Power supply

220V(380V,415V Multiple choices)

Dimension

4100×2100×2500mm

Weight

3200Kg

We could also customize cement grout plant according to your demands.