China spraying mortar machine price
2019-06-13 09:52:13
The automatic China spraying mortar machine is advanced in technology, stable in performance, reliable in operation and simple in operation. It is a kind of reliable spraying equipment in China. It is mainly used for building interior and exterior walls, cement mortar spraying and exterior wall insulation material mortar spraying and fireproofing. Material spraying. The mortar spraying machine produced by our factory basically has no floor ash, water saving and material saving, which can greatly reduce the cost, easy to operate, no need to take scaffolding, no mobile equipment, no need to repair the raft, yin and yang angle, top plate can be freely sprayed, with speed Fast, efficient, and labor intensive, a sprayer can easily spray 150 square meters per hour. If you use a quick mortar sprayer, because the pressure is used at the time of spraying, the thickness of the spray is better, and there is no unevenness. This is better than manual work; saving materials and using putty Sprayer can control the spray speed and thickness of the sprayer, saving material compared to manual operation.
Spraying mortar machine price is mainly used for indoor and outdoor spraying, waterproof grouting and waterproof surface spraying, waterproof spraying, grouting, ceiling spraying, wall spraying, paint spraying, garden spraying, embossing effect coating spraying, handicraft spraying, real stone paint, rockery spraying, sculpture spraying, sound absorption Material spraying.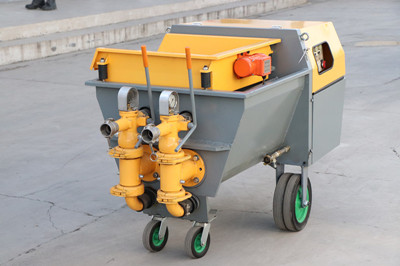 Analysis of the problem of less spray volume about mortar spraying machine price:
Firstly, the position of the gas needle in the nozzle moves to cause uneven discharge. Before each spraying, the distance between the gas needle port and the nozzle port should be adjusted. After adjusting the position, lock the gas needle fixing bolt and record the position of the gas needle.
Secondly, during the spraying process, due to the continuous operation of the nozzle, it is easy to cause the position of the gas needle to move, resulting in uneven discharge. In this case, the position of the gas needle can be adjusted to the position of the initial recording.
Thirdly, the nozzle should be sprayed as perpendicularly as possible to the surface to be sprayed (distance can be adjusted according to the spraying effect), and evenly sprayed, and coordinated with the leveling process.
Finally, if the wall is too dry or sprayed for a long time, it will seriously affect the flattening effect. To change the process, the material in the hopper should be uniform and can not be interrupted. When the conveying screw rotates, it is strictly prohibited to stir in the hopper with the stick to prevent injury. The mortar machine hurts people.