Hydraulic small automatic concrete pump application
2018-11-09 09:18:39
Hydraulic concrete pump is a kind of composite pumping requirements of concrete pump, through the horizontal or vertical installation of pipelines, the scene of the continuous conveying to the pouring fine stone concrete conveying equipment, widely used in the second post filling, floor heating engineering, roofing, wall of high-rise building, reservoir and hydropower station, port, wharf, basic processing soft foundation reinforcement grouting subway tunnel backfill grouting bolt support in mine construction.
The feature of small concrete pump
1. The use of pump power is very small, only 15kw, in the case of no power supply with only a minimum of the generator can work.
2. Pump light weight, easy to move.
3. Pump affordable, micro-mortar pump, micro-fine stone concrete pump, micro-concrete pump three configurations for customers to choose.
4. Pump configuration high, full hydraulic operation, stable performance, compact structure, low failure rate, long life.
5. The use of piston structure automatic air pressure technology, working pressure, pumping distance, high pumping height.
6. The smallest concrete pump in China, the only choice for many narrow construction environments.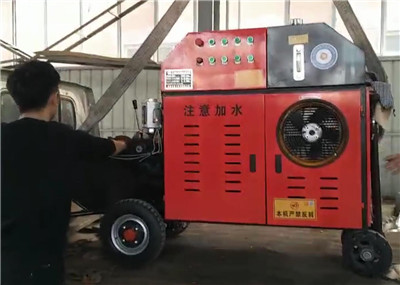 Hydraulic small automatic concrete pump is also called small fine stone pump, concrete pump application : widely used in the construction of some special environment, such as: railway highway tunnels, water diversion hole, culvert, mine, little tunnel construction including water-power engineering, hydropower engineering, slope support, underground construction, foundation grouting, a large group of building of post casting and so on.
Post casting special compare with traditional infusion pump construction process:
1. A reduction of construction equipment construction work of 200 root/day (every pillar in 0.18 cubic), equivalent to 48 perfusion workers a day of work. By comparing the reduction 90% of the construction of equipment can be reduced perfusion work cycle, and can save thousands of dollars of artificial daily wage.
2. Constructional column construction equipment one operator can start, but traditional perfusion construction working strength is big, therefore always faced with lack of engineering construction, recruitment difficulties and other issues.
Good quality, good service, to upgrade becomes a kind of enjoyment.