Shotcrete machine for sale in Sri Lanka
2019-01-02 10:06:57
Shotcrete machine for sale is divided into dry mix shotcrete machine and wet mix shotcrete machine according to different process.
With dry gunning the material is discharged from the machine with a maximum of 5% moisture and then feed materials to the nozzle assy by an air stream where the required water, typically 5–10%, is added.
With wet shotcrete machine for sale in Sri Lanka the gunning material is moistened with water in a mixer in advance and then pumped through a hose by means of an eccentric screw or a piston pump.
At the end of the line the material is dispersed with compressed air and, if necessary, an additional liquid bonding/hardening agent can be added (shotcreting), usually need add accelerator.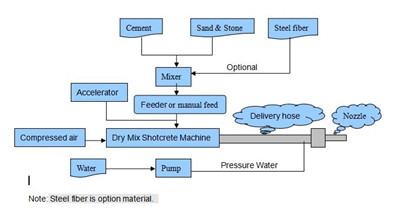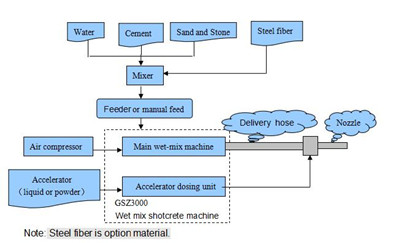 For dry mix shotcrete machine, usually be used in outdoor project, such as bridge repair, swimming pool, slope-protection etc. While wet mix shotcrete machine, widely applied in indoor project, such as mining, tunnel, subway etc. project.
Compared with dry mix shotcrete machine, wet mix shotcrete machine most are used in more important projects, low dust, low rebound, high spraying strength. Whichever kind shotcrete machine, all need air compressor to provided compressed air.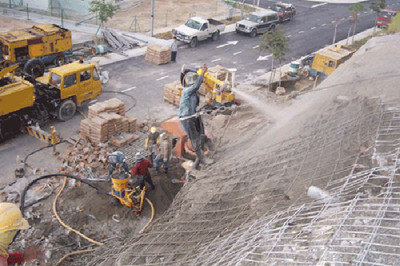 For shotcrete machine for sale in Sri Lanka, we have electric motor, air motor, diesel engine drive for customer option. Air motor and diesel engine shotcrete machine don't need any electric power supply, suitable for remote working site, inconvenient to get electric supply.
For dry mix shotcrete machine, we have LZ-3 (3m3/h), LZ-5 (5m3/h), LZ-7 (7m3/h), LZ-9 (9m3/h). While for wet shotcrete machine, we have LSZ3000 (5m3/h), LSZ3000V (5m3/h) and LPS-7A (7m3/h) for option.
Need know more information regards shotcrete machine, please check our website: www.leadcrete.com