Refractory gunning machine for sale in Malaysia
Refractory gunning machine is widely used in Malaysia. The refractory gunning machine in Malaysia is suitable for used for spraying refractory materials on lining kilns, boilers, furnaces, steel plant,
cement factory, degasser lining etc.
Our company is a professional supplier of refractory shotcrete machine, and its products are sold all over the world. Including refractory gunning machine for sale in Malaysia.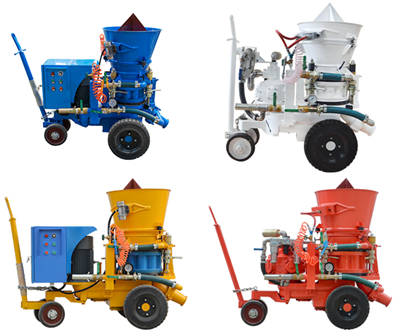 We have rich experience in refractory gunning machine for sale in Malaysia, and according to our experience, we will introduce some advantages of using refractory gunning machine Malaysia to you.


1. Suitable spraying materials: putty powder, paint, latex paint, real stone paint, cement mortar, dry powder mortar, thermal insulation mortar, waterproof material, fireproof material, heat insulation material, sound absorption material and other water-soluble materials.
2. Adjust the flow rate to bring up satisfactory spraying effect.
3. In addition to the switch on the electric cabinet, it is also equipped with a remote switch for spraying.
4. The connection between the spray gun and the feeding pipe can rotate, which is convenient for operation.
5. High construction efficiency and good quality.
6. Small size, convenient on-site handling, low cost of accessories and simple maintenance.
7. Easy to use, high speed, saving materials, labor and money. One machine is only equipped with three people, 150 square meters per hour (thickness 2cm).
We fully strive for share norms and values
:
1. Safety and Stringent quality control;
2. Maneuverability and Operator comfort;
4. Technical sophistication & after-sales full support.
As for china refractory gunning machine manufacturers, our company has many years of experience in refractory gunning machine for sale in Malaysia. LZ-3ER r
efractory gunning machine for sale in Malaysia
is specifically designed for Refractory Dry-mix shotcrete applications, as well as for concrete shotcrete application.
With this LZ-3ER
r
efractory gunning machine for sale
in Malaysia
, you can get low dust and high performance spraying flow in nozzle. LZ-3ER equipped with variable frequency driven can achieve variable output, so the start output can be adjusted relatively small by variable frequency avoiding plugging phenomenon.
We support customization according to your engineering requirements. If you are interested, please contact us immediately! The email: sales@leadcrete.com.