Refractory gunite shotcrete machine
2021-04-12 17:11:16
Refractory gunite shotcrete machine

The refractory gunite shotcrete machine uses compressed air to spray out a certain proportion of refractory materials at high speed to form a refractory layer on the surface of the sprayed masonry. It has significant advantages such as fast spraying construction speed, high efficiency, and good engineering quality.

The refractory gunite shotcrete machine for sale is suitable for indoor and outdoor wall spraying, cement mortar grouting, bridge grouting and waterproof surface spraying, fireproof spraying, thermal insulation material spraying, ceiling spraying, wall spraying, paint spraying, garden spraying, relief effect paint spraying, handicraft spraying, rockery Spraying, sound-absorbing material spraying, waterproof plugging, waterproof leak mending, light and convenient for construction under bridges, dams, hillsides, basements, tunnels, and housing plants.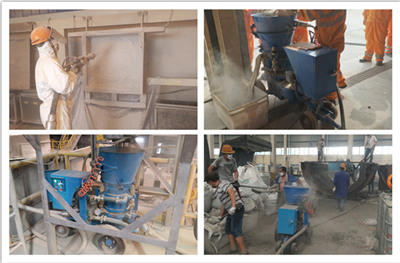 Features of refractory gunite shotcrete machine:
1. Refractory gunite machine has the functions of mixing, conveying and spraying.
2. The concrete pouring quality is good, the construction speed is fast, and the labor is saved.
3. Gunning metallurgy and industrial furnaces are widely used in steel mills.
4. The refractory shotcrete machine is a stereotyped product with good quality and durability. The vulnerable parts, rotating plate, bonding plate, spray gun and other accessories are adequately stocked.
Precautions for the use of refractory gunite shotcrete machine:
1. Preparation before starting:
A. Check whether the contacts of each circuit of the electric control system are firm and whether there is any leakage.
B. Observe the oil mark and check whether the lubricating oil in the reducer is sufficient.
C. Check whether the fastening of each part of the machine is correct and reliable.
D. Run the machine for a short time in order to grasp the rotation situation (pay attention to whether the direction of rotation is consistent with the direction of the arrow, see counterclockwise from above, but do not idling for a long time).
2. How to start spraying (gunning) operation:
After the preparation work is completed, the mixing material can be added to the machine. At this time, the machine operator should first open the main valve and then adjust the down duct. Then the spraying (gunning) operator opens the nozzle water valve to wet the spraying surface. At this time, the machine operator can start the machine and start the refractory injection operation.
3. Stop spraying:
A. Stop the machine and blow out the remaining materials in the conveying pipeline.
B. When the pipeline is clean, no material is sprayed from the nozzle.
C. Finally, close the main air pipe valve.


4. Precautions:

Strictly prevent longer and larger objects such as steel bars, iron plates, etc. from entering the rotor material cavity during use, which may cause a large crash.