9 cubic diesel shotcrete machine for tunnel protection
2021-04-09 16:53:33
9 cubic diesel shotcrete machine for tunnel protection
Earth and rock excavation is effectively stabilized by shotcrete and various reinforcement and anchoring systems. The use of shotcrete stabilized soil excavation has advantages over traditional wood and steel support techniques. Shotcrete is also ideal for tunnel and mining ground support. It provides early ground support after blasting or excavation; early strength development, which provides flexibility to allow ground stabilization and stress relief; and provides the ability to conform to the natural, irregular contours of the ground without the template, making it any tunnel The ideal choice.


Shotcrete is also the preferred material for underground stations, slopes, shops and provides long term stability. It can be used as a final or permanent lining for subterranean structures.
Leadcrete shotcrete equipment have been exported to the India, Malaysia, Pakistan, Philippines, Nepal, Iraq, Iran, UAE, and other countries.
A few of our employees have been working in designing and selling the 9 cubic diesel shotcrete machine for tunnel protection for about twenty years. They can provide customers with sincere, friendly and timely technical consultation, technical support and after-sales service.
For good relationship with customers/clients, our company has been providing high-quality 9 cubic diesel shotcrete machine for tunnel protection at competitive prices with sincere and timely services. Many customers/clients are our friends and long-term partners now.
Lead shotcrete machine for tunnel protection is mainly used in large-section tunnel building, tunneling, mining operations, hydropower projects, hillside protection, extensive slope consolidation work, etc.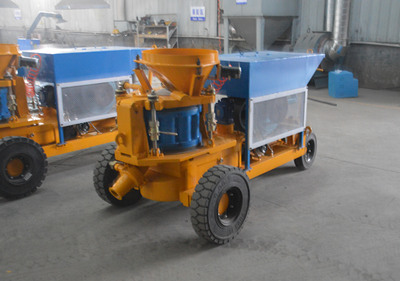 1. The upper hopper and the lifting hopper work together to realize uninterrupted feeding, and the shotcrete volume per hour can be as high as 9m³, which improves work efficiency;
2. The diesel shotcrete machine for tunnel protection can slide easily on the track, and the upper hopper hydraulically controls the lifting, which reduces the labor intensity of the maintenance personnel;
3. Four hydraulic outriggers make the equipment work smooth, firm and safe, and it is more suitable for construction on site;
4. After the lifting hopper is raised to the specified height, the oil pump stops automatically, which not only prolongs the service life of the oil pump, but also reduces the oil energy consumption and saves costs;
5. The unloading of the upper hopper can be opened and closed easily, and the unloading amount can be automatically adjusted according to the spraying amount of the dry spraying machine, eliminating the need for manual adjustment.
6. The rapid setting agent automatic adding device has a novel and reasonable design, continuous and uniform feeding, stepless speed regulation, reducing labor costs;
7. Adding accelerating agent adding station for safety protection makes it easy and safe to add materials;
8. There are working switches on both sides of the fuselage, which makes the operation more convenient.