High performance pneumatic refractory gunning machine
2022-07-01 19:18:21
Leadcrete Equipment, is one of the leading refractory gunning machine company since 2012. Leadcrete Equipment has committed itself to differentiating its offer through thought-leadership in design and manufacturing. We offer a comprehensive range of high performance pneumatic refractory gunning machine technologies, parts and services and are always ready to improve our customers' productivity and profitability.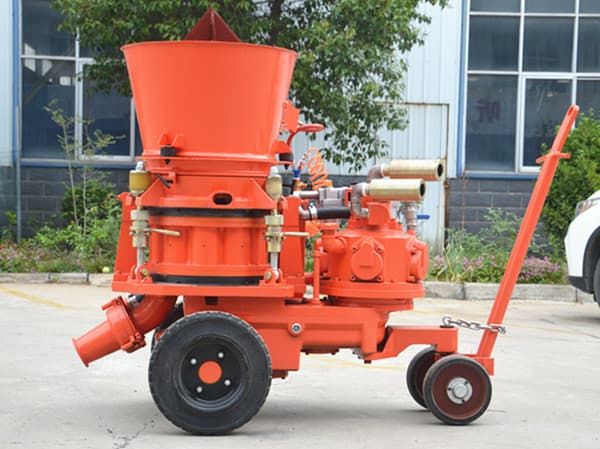 The working principle of refractory material gunning machine is to use compressed air to spray out a certain ratio of refractory material at high speed to form a refractory layer on the surface of the masonry being sprayed, which is widely used for its significant advantages such as fast spraying construction, high efficiency and good engineering quality.
For illustration, consider the LZ-5AR Refractory Gunning Machine, which is an air motor full pneumatic straight chamber rotor type of refractory gunning machine. Refractory dry-mix shotcrete applications as well as applications for concrete shotcrete are the two main purposes of the air motor gunning machine. With the LZ-5AR refractory gunite machine for the cement industry, which is strong, portable, and dependable, you can get high performance spraying flow with minimal dust.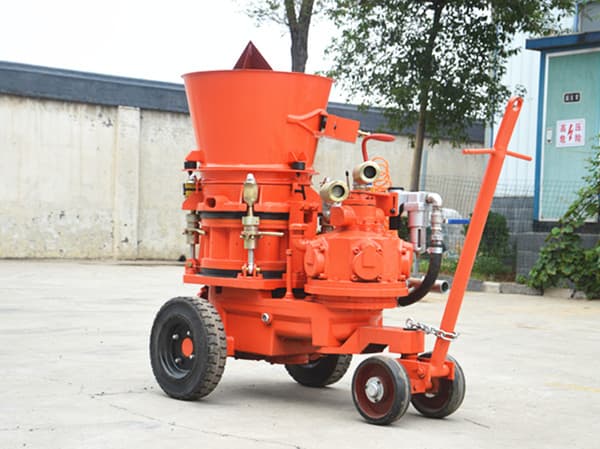 Its features: 5 cylinders piston air motor, more powerful. Pneumatic transmission system. the pneumatic triple pieces is refers to the air filter, relief valve and oil mist. Collect dust bag.
Clean dust gun. Heavy-duty solid wheels. Coupling and clamp, the coupling and clamp are optional. Light weight nozzle, new pre-dampening nozzle. Blast rubber hose. High operational performance, high efficiency refractory gunite machine for boiler chimney. Low maintenance cost refractory spraying machine for boiler chimney. High pressure water pump, 6 bar pressure make sure to add water fully atomize, mix evenly.
The LZ-5AR refractory gunning machine for the cement industry is specifically made for the application of shotcrete and castablerefactories for refractories as well as for concrete.
REFRACTORY GUNITING MACHINE was introduced by Leadcrete Equipment. This machine is frequently used to repair electric arc furnaces in both hot and cold environments (AOD, VOD). When furnaces are fixed while still hot, the main benefit of this device is realized. The time spent chilling and then heating the furnace again is reduced, and thermal losses are avoided, which results in significant power savings and an improvement in furnace availability. Injecting coke into a molten metal bath to create alloy steel also uses refractory gunning machines. These devices are also employed in steel melting units to apply foamy slag. The machine includes components including the Coke Injection Nozzles, Semi-Wet Nozzle, Refractory Gunning Nozzles, and Vibrating Silo. Dry refractory material is transported from the machine to the spray nozzle position, where it is hydrated as needed right before spraying.
If you are interested in our products, please contact us. Email address: sales@leadcrete.com