Spray plastering machine South Africa
2019-09-05 17:55:21
Spray plastering machine is a summary of our experiences in using various spraying equipment at home and abroad. We have developed the most advanced double-cylinder piston mortar spraying machine in China, which has the advantages of long transportation distance, long working time, high efficiency, easy maintenance. Equipped with air compressor, no need for external air sources. Equipped with automatic lubrication system, effectively extend the service life of rotating parts. Mortar particle diameter less than 5mm which all could be sprayed. Also if there is no quality problem made by manual normal operation, our factory will grant one year warranty period. For any type of spraying pump that buyer preferred, Our factory customizes the product as whatever customer required base on the actual condition.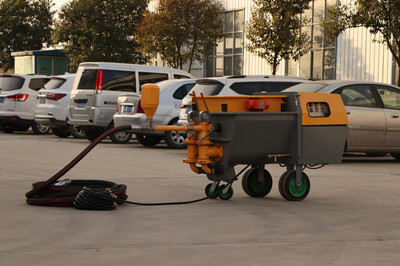 Main Features of plastering machine South Africa:
1. Barely no ash falls when working, water, and material, the labor cost can be reduced.
2. Used widely. such as thin-layer mortar , but also for paint, lacquer, relief effect coatings, waterproofing materials, refractory materials, such as spraying operations, is used for housing protection, paint, paste on the bottom of suitable models
3. Simple operation; high speed, high efficiency, low labor intensity
4. Project quality assurance; this is a multi-purpose machine
5 .It equips with an air compressor and a variable frequency electric box.
South Africa plastering machine is mainly used for building internal and external wall surface goods mixed mortar, putty powder, refractory coating and pressure grouting. Working principle is feed cement or other products into feeder, and suction slurry under the action of piston pump, it can continuous discharge, and along the pipeline conveying forward, arrived at the nozzle is introduced into the wind, slurry under the action of wind, jet formation, and spray on the wall surface. It is very easy to operation. If there is anything we can do for you, please contact us in time.