Mobile grouting pump for cement
2019-07-31 09:54:04
Double-Plunger hydraulic grouting pump for cement, is designed with two low-wear plungers pump. With the features of double acting, ball valves, low-pressure surge, variable pressure, and flow. Therefore, this pump is suitable for all grouting work, up to 8mm particle size, such as, for the pumping of backfill mortar behind tunnel liners, grouting in the soil, earth foundation stabilization, waterproofing, tunnel lining, underwater foundations, bridge decks, deep well casing, slope line grouting, etc.
Feature of mobile grouting pump:
1. The plunger pump system
2. Comparing with the piston pump system, the plunger system does not require any close tolerance parts such as cylinders or precise piston seals, etc. The plunger is sealed by a simple maintenance-free seal
3. Double plungers and acting
4. Vertical type pump with compact size
5. Hydraulic drive
6. Safely releasing pressure when pumping block
7. Ball valve
8. Up to 8mm particle size
9. Low wear plunger system
10. Low flow pressure surge system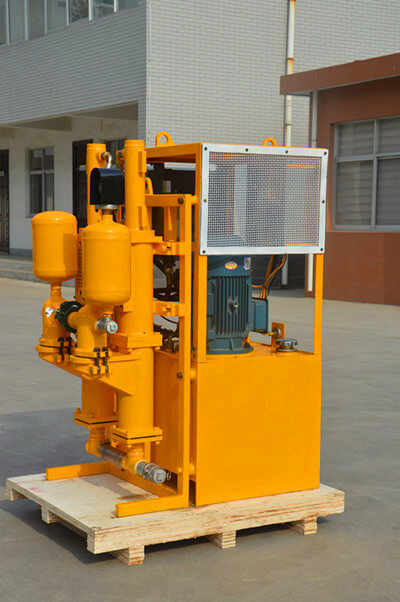 Mobile grouting pump for cement is also called grout injection machine or grouting machine. Grout pump are designed a series of products according to the project's need to develop. Widely used in tunnels, subways and other underground engineering waterproof, large faults, deep hole, highway foundation reinforcement, plugging and hydraulic power dam reinforcement, sealing and ground buildings foundation grouting reinforcement, slope bolting grouting construction, etc. Grout pump is suitable for pressure grouting, post-grouting, as well as vacuum grouting. This is due to its highly versatile and compatible nature. Its lightweight and high pressure capability made it the operator's choice for tomorrow's grouting challenge.
We are a professional grout equipment manufacturer from China. Our productions include grout pump, grout mixer and agitator, grout plant and so on. Also we can customize machine according to your project's requirements. If there is anything we can do for you, please contact us freely. We will give you feedback at the first time.