Mortar spraying machine for sale
2018-11-20 10:13:52
Hot sales mortar spraying machine manufacturer is a Screw Pump high-pressure mortar spraying machine, with advanced technology, simple operation and maintenance, it can be operated skillfully without special training.
Mortar spray machine manufacturer adapted spraying material included: putty powder, paint, latex paint, lacquer, cement mortar, dry mortar, thermal insulation, waterproofing materials, fireproof materials, insulation materials, sound-absorbing materials and other water-soluble material.
Main Features:
1. Adjust the size of the flow, tune out the best coating results.
2. In addition to the electrical control box can switch, but also equipped with remote control switch spraying.
3. Gun connection with the feeding tube can be rotated for easy operation.
4. High efficiency, good quality.
5. Easy structure, easy to handling on-site, and accessories is cheap ,easy to maintenance.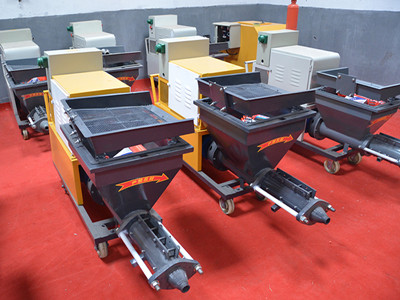 The automatic mortar spraying machine for sale is a spraying unit with high reliable, well-adapted, sturdy and durable, easy operated. Only three peopled are needed for the construction, one conveys the raw materials, one controls the spraying gun, and the third one for assistant work (ex. move the tube).
While the water adding, mixing and conveying of the materials is completed automatically by the machine. Compared the traditional manual construction, it can save the labor, money and time. Additional, the project quality is much better than manual construction. The spraying pump equipped with safety operating control system, and it would stop no matter which parts have fault, which can guarantee the safety of the machine as well as the operator.
Our service:
1. For any problems, we will reply within 24 hours.
2. Supply guiding for the installation, operating and maintaining.
3. Supply all spare parts to our clients. We also have many spare parts in stock, can send to you fast.
4. Engineers can come to the working site overseas to help installation and training staffs.