Mortar spraying machine manufacture
2018-05-15 13:46:34
The Screw type cement mortar spraying machine is our newest product, the machine consists of motor, reducer, pump, air compressor, electrical equipment, machine frame and so on. It has a big advantage than the piston style spraying machine, Mortar spraying machine manufacture machine has high pressure, fast speed, high efficiency, easy moving, easy maintenance, and long service life, most important, no need to often change the wearing parts. Only three persons are required for operation. One person delivers material, one person operates the spraying gun, a third person does the assistant work (for instance: assistant to remove the hose).Compared with the manual operation, it can save manpower, material resources, money and precious time, as well makes the construction quality better and more reliable than the traditional manual operation.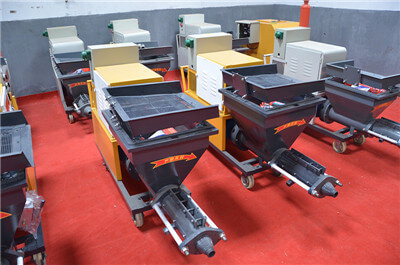 The
mortar spraying machine supplier
equipment can't mix the mortar, the user must pour the prepared mortar into the hopper. when it's used for spraying, it need match air compressor. The
mortar spraying machine factory
machine is mainly used in the building construction industry, both inside and outside wall for plastering and spraying mortar, external wall insulation mortar spraying, the materials can be mortar roughcast, refractory coating, large building spraying fire materials, waterproofing coating and so on. More detail information about machine, please contact us any time. We will help you at the first time.