Mortar pump used for housing projects
2019-06-18 18:53:54
Mortar pump used for housing projects is a screw type pump. It basically has no floor ash, saves water and saves materials, can greatly reduce the cost, and is easy to operate. It does not need to be scaffolding, no mobile equipment, no need to repair the raft, and the yin and yang angles and the top plate are free. Spraying, with high speed, high efficiency and low labor intensity. This machine is an electric screw type high pressure mortar spraying machine with advanced technology, simple operation and maintenance, and can be operated skillfully without special training. This mortar spraying machine is suitable for: indoor and outdoor ceiling spraying, expansion joint leaking, settlement leaking water, subway leakage, tunnel leakage, mine plugging, human prevention plugging project, dam leakage and plugging, floor, crack, empty drum Strong reinforcement, cement mortar spraying, mortar spraying, waterproof grouting and waterproof surface coating.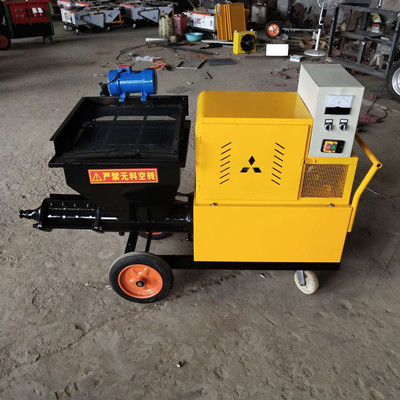 Advantage of mortar spraying machine for housing projects:
1. Basically no floor ash, water saving, material saving, can reduce costs by more than 20%;
2. Simple operation, no scaffolding, no mobile equipment, no need to repair the raft, yin and yang angle, the top plate can be freely sprayed, shortening the construction period, improving the work schedule, and saving the cost of the frame material.
3. Fast speed, high efficiency, low labor intensity, one sprayer can easily spray 150 square meters per hour, remove the preparation time, work 8 hours a day, can spray more than 1000 square meters, and quite 20 skilled workers work hard. Workload.
4. The quality of the project is guaranteed. The main disadvantages of the artificial powder wall and the powder wall machine are the insufficient adhesion of the mortar and the wall and the compactness of the mortar. The flow rate of the machine is large and the pressure is high. The mortar density is far beyond the prescribed standard, avoiding Trouble and loss caused by quality, construction period, wages and other issues.
5. A multi-purpose machine can be sprayed or grouted.