LMP50/40 Mortar Pump Application
2018-04-18 18:14:19
LMP50/40 MORTAR PUMP is a kind of single cylinder single piston type mortar conveying pump. This mortar spraying pump has the advantages of compact structure, reliable work, low failure rate, convenient cleaning and maintenance, and high pumping pressure etc.
As below picture shows the structure of LMP50/40 mortar pump machine, when the engine runs, drives the crankcase with crankshaft via V-belt, reciprocating the crosshead piston mounted on the end of the connecting rod. The piston rod in the cylinder of the pump head is connected with the crosshead piston through threads, so the piston does the synchronous reciprocating motion. In order to make the suction and discharge of the pump head alternately appear negative and positive pressure, which is reflected as a suction and a row of work. A pressure gauge mounted on the pump head can monitor the working pressure of the mortar spraying pump.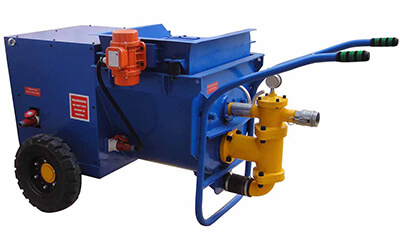 This cement mortar pump can be used not only for grouting cement mortar and sand mortar, combined with accessories such as compressor and spraying gun, it is also ideal equipment applied in spraying. It's mainly used for tunnel drilling and maintenance, mine engineering, hydropower construction, bridge construction and high-rise building foundation treatment projects, as well as various types of underground engineering and other mortar delivery and infusion.