Cement mortar plastering machine application
2019-01-19 10:07:18
The mortar plastering machine is developed by bringing in and taking advantage of advanced technology experience for the present domestic and oversea spraying machinery equipment, and also taking advantage of the long-term engaged in the concrete construction machinery design and the manufacture experience as the production with high quality.
This plastering machine application is suitable for pumping and spraying all kinds of ordinary mortar for the railway and highway tunnels, Bridges and culverts, water conservancy and hydropower, mining, high-rise buildings and national defense and other projects, the ideal solution is provided for lime-based or cement-based on site mixing mortar and ready mix mortar.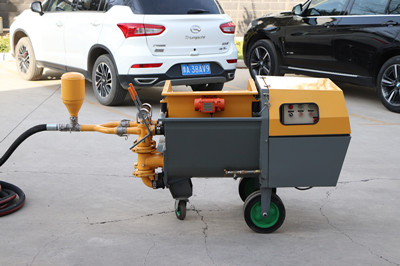 Cement mortar plastering machine can not only be used for spraying, but also for filling mortar. Besides, mortar spraying machine can be named as Rapid Mortar Spraying Machine due to high efficiency spraying speed; Also called Plastering Machine because of spraying cement slurry.
Due to spray putty powder, refractory materials, emulsion paint, fireproof material, also known as Multi-function Sprayer. Operators should correctly use and carefully maintain the mortar spraying machine equipment, pay attention to the following special tips:
1.The operator of the machine must be a trained and skilled worker.
2.Read this instruction carefully before operating the machine, and do not violate the rules and regulations.
3.Note that the power supply is three-phase five-wire system, and it is strictly prohibited to connect the zero wire incorrectly.
4.Unskilled technicians shall not be invited for maintenance, especially for the main parts of the machine, and shall not be dismantled at will, such as concrete cylinder, crankcase, etc.
5.Before each work, the operator should carefully check the concrete conveying pump and pipeline, and confirm that there is no fault before starting up.
On the contrary, the fault must be removed first.
6.After the completion of each construction operation, the residual mortar in the hopper, conveying cylinder and pipeline must be removed in time, and the bolts of rotating parts must be checked for looseness.
Our company persists to improve and modify the equipment , and strive for perfection.