Industrial shotcrete machine for sale
2018-04-13 15:41:35
Leadcrete industrial shotcrete machine is widely used for dry-mix, damp-mix shotcreting and steel fiber reinforced shotcreting application. We have industrial dry and wet concrete sprayer machine for sale or called dry and wet shotcrete machine for sale. The shotcrete machine use compressed air to convey or high-speed jet concrete mix proportion through the pipe surface. Concrete structure setting and hardening on the surface, forming concrete support layer.
Industrial shotcrete machine for tunnels introduction:
In recent years, jetting concrete technology and a simple process, a unique effect, economic cost and construction speed is fast, Leadcrete industrial shotcrete machine is a high-effective shotcrete machine. Industrial dry and wet concrete sprayer machine is widely used in tunnel engineering, repairing or spraying refractory lining, slope project, hydro-power engineering, underground engineering, civil engineering, construction, mining, culverts, subway and high marsh coal mine tunnel shotcrete construction operations, various industrial furnaces and various green slope, soil transport and injection etc. projects.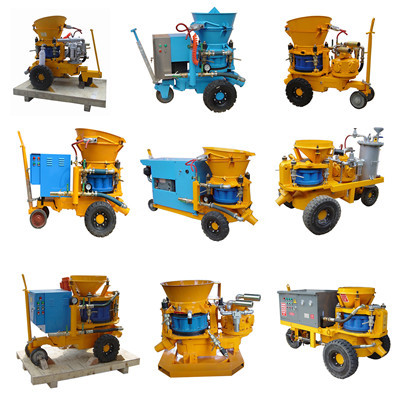 Feature of industrial shotcrete machine for swimming pool construction:
1. Non - adhesion by the rotor with the new material room, completely eliminate welding and blocking during the operation and maintenance to reduce gap.
2. The new nozzle, discharge pipe bending equipment, improves the effect of spray deposition, less elastic, high quality of the shotcrete.
3. Through the rotary type, non-viscous, unobstructed discharge, high efficiency and save time.
4. Eddy current with low pressure, high speed pneumatic transportation, so the flow is even, continuous and stable. Improve the quality of sprayed concrete is very good.
5. Four clamping device is easy to adjust according to the seal between the plate and rotor disk, in order to reduce dust and air leakage, to extend the consumption part of life.
Dry mix shotcrete machine anti-explosion building construction equipment application:
1. Shotcrete machine for gunite swimming pool construction.
2. For low-volume refractory spraying.
3. Shotcrete machine for mine support.
4. Shotcrete machine for concrete repair.
5. Shotcrete machine for artificial rocks and caves.
6. Shotcrete machine for soil retention and tetaining walls.
7. Shotcrete machine for rockscaping.
9. Shotcrete machine for tunnel linings.
Industrial shotcrete machine pictures: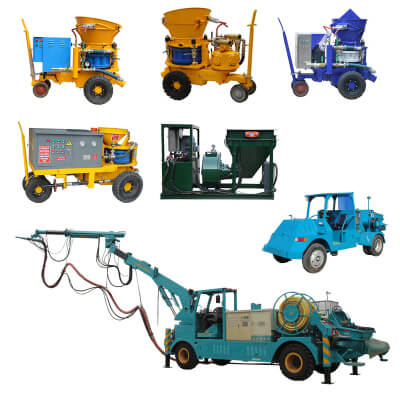 http://www.leadcrete.com/shotcrete-machine/
Chassis of shotcrete/gunite machine can be assembled into a tire, skid type, rail wheel.
Maintenance and repair about our industrial shotcrete machine:
1. If you have any questions in the welding connection, timely treatment.
2. Check all fasteners part, especially the bolt vibration hopper;
3. And lumen feeder, cyclone elbow, sleeves, has certain release, check after cleaning and replacement of parts in time, all class work;
4. After we had finished the work, must clean the machine.
Industrial shotcrete machine, whether it is wild jet slope project, or building wall reinforcement, it can meet your requirements. If you have any interesting about our industrial shotcrete machine, gunite machine, concrete sprayer machine, you can contact us freely, email address is sales@leadcrete.com. Look forward to your reply!