Industrial peristaltic pump in Vietnam
2018-10-27 10:03:03
Industrial peristaltic pump consists mainly of pump house, rotor, roller, idle roller, squeeze hose and driving unit.
The squeeze hose is U-shape in pump hose, when rotor drives roller to rotate, hose is deformed. After the roller rotate, the deformed hose recover by its elasticity. Thus the negative pressure in this hose is generated, sucking slurries, and discharging through outlet under roller's push, finally forms pressure conveying of slurries. The working principle of the hose pump can be simplified to the following pictures.

Leadcrete hose pump structure is different from Bredel, our hose pump adopts roller structure, while Bredel hose pump adopts pressure shoe structure. Roller structure produces rolling friction on the surface of squeeze hose, while pressure shoe structure produces sliding friction.
Usually rolling friction is smaller than sliding fiction under the same pressure. Besides Bredel hose pump need add lubricant oil inside the pump casing and need be sealed structure. For Leadcrete peristaltic pump, you don't need add lubricant oil in the hose pump house.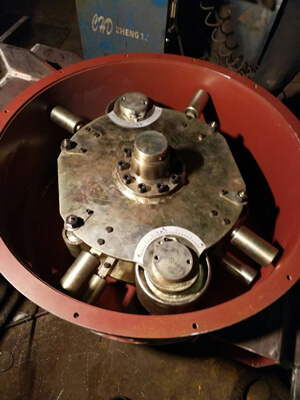 Nowadays, Vietnam customers order our two set industrial peristaltic pump Vietnam for pumping lightweight concrete. According to customers' demands, we recommend our LH76-775B hose pump. In order to easy to move, we add the chassis, wheels and draw bars in our hose pump.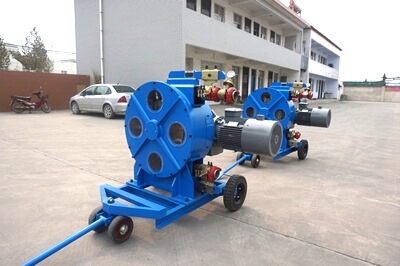 Compared with other hose pump, our hose pump adopts helical-bevel gear units, higher carrying capacity, anti-overload, having much more service life than cycloidal decelerator. Our hose pump core adopts overall galvanizing treatment, avoid rust.
Roller bearing is China famous brand Harbin full sealed bearing. Want to know much more product information, please check our company website: www.gaodetec.com
If you need our hose pump for your project, please let us know what is the output and pressure you want.