Hydromulch machine for sale Australia
2021-02-08 14:46:05
Hydromulch machine for sale Australia
The hydromulch machine for sale has now become an effective method of vegetation establishment in greening projects such as highway and railway slope greening, mine re-greening, desert treatment, river embankment protection, and large-scale green space reconstruction.
The hydromulch machine for sale Australia includes a start button, a horn button, a throttle handle, and an ammeter, which are used to start the diesel engine and observe the battery power. The throttle handle is used to control the speed of the mixing blade and the distance of the spray head! Hydro mulcher for sale is used in conjunction with the pedal clutch and the shift lever. It mainly controls the forward and reverse rotation of the tank mixing blade. Stepping on the clutch shift lever is the same as driving the clutch shift position, and controls the lift valve during the mixing and feeding stage. Lower the lift valve to make the material agitate more evenly. When spraying starts, lift the lift valve to start construction. The universal joint is also called the universal sprinkler, which is used to operate on the machine without taking over the spraying, and can be 360°C! The universal joint ball valve and the return pipe ball valve are a material output switch.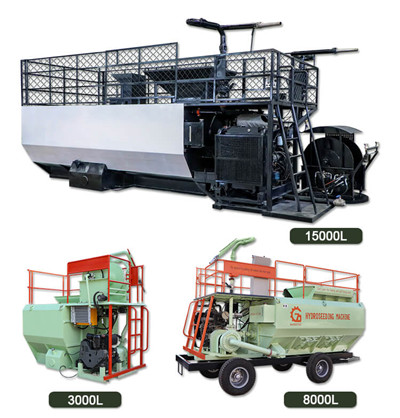 1. Large outlet pressure: The outlet pressure of the mud pump is 2.4Mpa, which is more than 2 times higher than the outlet pressure of the mud pump in the same industry.
2. Long conveying distance: When the solid content exceeds 80% of the mud concentration, the direct injection height is 50 meters, and the multi-stage pressurized conveying platform can realize the conveying distance of more than 300 meters.
3. Customized power: special power equipment for sprayer: low fuel consumption, low speed, high torque, strong plateau adaptability, low maintenance cost and a series of special power equipment. High power matching degree greatly increases power conversion performance and improves spraying efficiency.
4. Quality assurance: Standardized assembly line operation, 12-month warranty for the whole machine, except for vulnerable parts, lifetime on-site after-sales service, no blind spots in the service network, covering all provinces across the country.
5. Technical support: Slope greening construction: plan design-equipment procurement-material supply-construction technical guidance-post-maintenance management one-stop service, providing you with a one-stop overall solution for slope greening construction and ecological environment restoration.


For more information about the hydromulch machine for sale australia, please email us: sales@leadcrete.com.