Hose pump for pumping heavy fuel oil sludge
2018-08-08 11:49:26
Hose pump for pumping oil sludge usually consists mainly of pump hose, rotor, roller, idle rollers, squeeze hose and driving unit etc. The squeeze hose is U-shape in pump house, when rotor drives roller to rotate, hose is deformed. After the roller rotate, the deformed hose recover by its elasticity. Thus the negative pressure is this hose is generated, sucking slurries, and discharging through outlet under roller's push, finally forms pressure conveying of slurries.
Working principle
Compared with other type pump, hose pump for pumping heavy fuel oil sludge is easy to operate and maintain, only squeeze hose contact with materials. Once go wrong, only need replace squeeze hose timely. Nowadays, Lead peristaltic pump is divided into Chinese squeeze hose and France Trelleborg squeeze hose. Chinese squeeze hose max. Working pressure is 1.5Mpa, service life is about 800 hours, while France Trelleborg squeeze hose max. Working pressure is 3Mpa, service life is about 1200 hours. According to different application, squeeze hose is also divided into Natural Rubber hose, Nitrile Rubber hose, EPDM hose and Food grade hose. For example, if customers want to pump milk and juice in food industry, we will recommend food grade squeeze hose.
Squeeze hose pump
Pumping oil sludge hose pump could also be used for pumping heavy fuel oil sludge, after finished work, hose pump all need clean with sponge cleaning ball, usually sponge cleaning ball diameter is equal to squeeze hose inner diameter. In order to recommend the suitable pump for customers, we need know the output capacity and working pressure project requirements, faster speed, larger output capacity; more power and large working pressure. Is the higher the speed, the better? The answer is No. Excessive speed will increase the wear of the squeeze hose and reduce the squeeze hose service life. According to our experience, rotate speed 30~45rpm is better.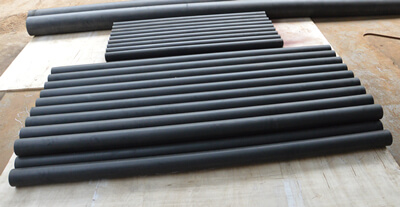 More detailed peristaltic pump information, please check the below link:
https://www.leadcrete.com/peristaltic-pump/hose-grout-pump.html