Small concrete pump used for bridge repair
2018-08-07 11:22:22
Small concrete pump for bridge repair is a small fluid mixture conveying equipment, not only widely used for wet-mixed mortar pumping and wall plastering in high-floor buildings construction, but also for support lining construction in ground heating project, tunnels, mines and other underground engineering. HW could pump less than 25mm fine aggregate concrete with lower investment cost and operating cost, it is first choice ideal equipment for engineering construction. It adopts S tube as distributing valve to meet large aggregate concrete pumping. The hydraulic-driven mixing device can play the good role of secondary mixing conducive to pumping. The glasses plate and cutting ring adopt hard alloy material inlay manufacturing with wear resistant and long service life.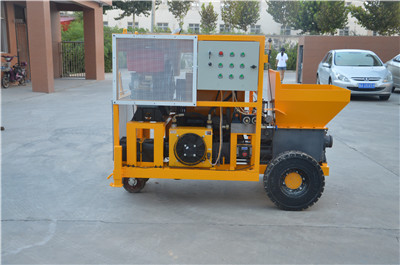 The advantage of the small concrete pump is as follows:
1. The use of pump power is very small, only 15kw, in the case of no power supply with only a minimum of the generator can work.
2. Pump configuration high, full hydraulic operation, stable performance, compact structure, low failure rate, long life.
3. The smallest concrete pump in domestic, the only choice for many narrow working environment.
4. Pump light weight, easy to move.
5. Pump affordable, micro-mortar pump, micro-fine stone concrete pump, micro-concrete pump three configurations for customers to choose.
6. The use of piston structure automatic air pressure technology, working pressure, pumping distance 90m, high pumping height 30m.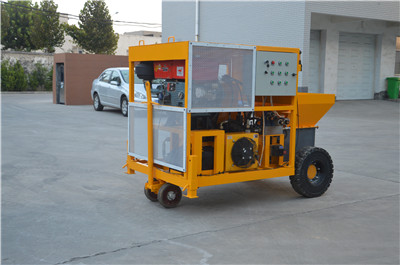 Our company can provide the most reasonable solution according to the special demand from different customers. The hydraulic system of concrete pump for concrete repair adopts independent three circuit electro-hydraulic control with high reliability. The electrical system control is fully functional with returning pressure control function eliminating pipe blocking failure. Its elegant appearance and light weight is easy to transport; Working with batching mixing equipment can achieve continuous pumping construction to improve construction schedule.