Grout mixer and mixer with agitator
2019-09-09 18:43:37
LMA400-700 grout mixer and agitator is a combination of mixer and agitator. It is a skid mounted, colloidal grout unit. This system is designed to provide a continuous mixing operation. High shear high speed colloidal grout mixer ensures fast mixing. The agitating holding tank has a vertical shaft with horizontal blades. Slow mixing ensures the slurry homogenizing, also removing air bubbles. The mixing work can continuously be done. All components are easily accessible for operating, cleaning and maintenance. After mixing, these mixtures are pumped into the agitator tank with slow speed mixing paddles by the above same pump. When the mixtures in mixer tank are completely pumped out, to shift the special design handle valve to continue to mix the next cycle slurry.
Features of grout mixer with agitator:
1. High speed mixing and high efficiency to achieve continuous mixing;
2. Simple structure, easy assemble;
3. Less spare parts, low maintenance;
4. Mixer and agitator switch by using squeeze handle, great reliability and simple to operate.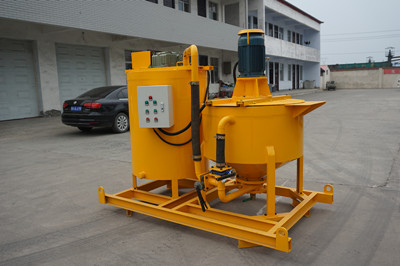 There are many models of mixer and mixer with agitator in our company. Electric motor driven or diesel engine driven are ok for our machine. Our company absorb European technology. It is specially design for cement mixing and grouting in ground/underground engineering. We also can design the mixer with agitator, to make the mixing work can continuously be done. We are also a professional grouting equipment manufacturer from China. The big advantage of our machine is according to customer's project requirements to customize machine. High speed high sheer colloidal grout mixer is mainly used for ground and underground and engineering construction, such as roads, railways, hydropower, construction, and mines. Welcome to our factory to visit and learn production knowledge. Hope you can build cooperation with you in the near future. Please contact us freely. Here is our email address: sales@leadcrete.com