Cement grout mixer and agitator in Pakistan
2020-02-03 17:32:15
Cement grout mixer and agitator in Pakistan
What is a cement grout mixer and agitator? It is an integrated grouting machine with mixer produced by Lead Equipment company. It consists of high-speed mixer, low-speed agitator and grout pump.
Volume of mixer, agitator and grout pump can be equipped according to actual requirement. There are different models of integrated grout mixer for customers to choose, including 300 L, 400L, 500 L mixing volume. Also, we can customize volume according your requirements. It can grout cement, slurry, bentonite, superfine cement. The efficiency of mixing is high and the rotate speed is 1450 rpm.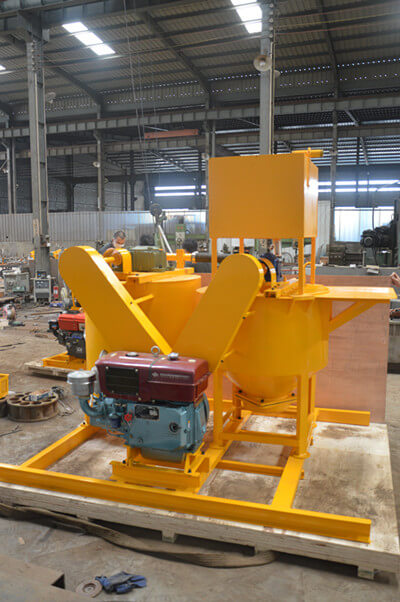 The cement, bentonite, water and other additives are mixed into mortar. Compared with the general mixer with blade mixing, the
grout mixer and agitator in Pakistan
adopts vortex mixing which gives fast and uniform mixing. Furthermore, The mortar will be mixed in the storage tank for secondary mixing to avoid sedimentation.
1. Vortex mixing gives fast mortar making and uniform mixing. The high-speed liquid flow produced by high-speed rotation of impeller of high-speed centrifugal pump driven by rotation axis mix all materials thoroughly and mortar can be made rapidly.
2. Mortar making, storage and grouting are in one
cement grout mixer and agitator in Pakistan
, fast and uniform mixing, long-distance grouting.
3. Compact structure allows convenient transportation and lift.
Low-speed agitator is a core part of the integrated machine. Mixing speed and even level will affect grouting efficiency and effect. Therefore
cement grout mixer and agitator
equipped grout pump should match the mixing speed.
The integrated grout mixer and agitator is mainly used for the industries of hydropower, railway, transportation, construction, mining. Grout mixer pump plays an important role in many areas.
Our company has over 10 years experiences in manufacturing construction machinery. The integrated grout mixer pump sells well in national and international market. It enjoys good reputation with customers. Recently a new customers from Pakistan has order 10 sets of grout mixer and grout pump. Cement grout mixer and agitator in Pakistan are very popular. We are appreciated for the trust of this friend from the Pakistan. In the future, hope we have a chance to serve more and more new customers.