Foamed concrete for bridges and roads
2021-03-26 14:47:11
Foamed concrete for bridges and roads
The use of foamed concrete is becoming more and more popular with designers and engineers to meet the requirements of the new European road transport regulations. A typical example is the use of foamed concrete to fill voids in bridge piers and the construction of light decks and abutments.


Its free-flowing light weight reduces the load on the foundation while increasing the strength of the structure, making it an ideal choice for bridge reinforcement.
When foamed concrete is used as a ditch filling, pipes and services will be sealed to ensure a permanent first repair, which is recommended by the Road and Street Engineering Law.
With the increase in HGVs in bridges and viaducts across the country, the need to strengthen and widen bridges has become critical.
A successful example: About 3000 cubic meters of foamed concrete has been pumped to strengthen and stabilize the Widford Viaduct, thereby lifting the weight limit of A1114 Chelmsford London Road.
As part of the £2.73 million contract signed with the Highway Bureau, the contractor worked with the foaming machine manufacturer to develop a solution that can maintain traffic flow on narrow bridges during the strengthening period.
Before installing new prefabricated bridge decks and retaining walls, reliable, sturdy, and lightweight foam concrete has become a vital component when strengthening the bridge.
There are four longitudinal beams below the viaduct deck, crossing the beams every three meters. This causes the cells to form the length of the viaduct.
The foamed concrete must be pumped in from the side of the viaduct, not through the deck. Each unit needs to be completely filled with foam concrete and vented separately to allow air to escape.
This means that a complex pump and exhaust hose system needs to be provided for each unit. At 56 locations on the side of the viaduct, light-weight foam concrete with a density of 1150 Kg/m3 is pumped in through a 300-meter pump hose.
As a result, the viaduct has been strengthened and is ready for the next stage-new prefabricated bridge decks and retaining walls have been installed. It has now been completed, the weight restrictions have been lifted, and the narrow lanes have been removed. Vehicles over three tons can use the A1114 London Road again, and there will be no rerouting.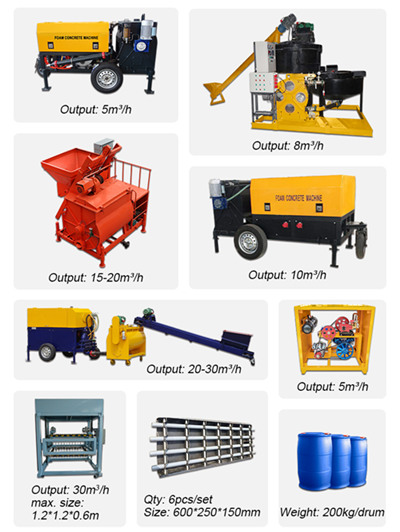 As foam concrete machine manufacturer, we can provide good quality foam concrete machines to you, we are in this area for 10 years. And we have already exported foam concrete machines to many countries, we have rich experience.

Foam concrete machine can be used for CLC blocks, wall casting, floor, roof, etc. We have now developed full series of foam concrete machine with different of models. Max. output from 5-40m3 /h. Output, pressure and voltage are available options for customization. We also can supply wire cutting machine, foam agent, foam mould for you. Hope we will have a good cooperation.

If you are interested in foam concrete machine, please contact us freely, sales@leadcrete.com.