Why CLC foam concrete machine is popular?
2018-09-07 10:50:09
Cellular Lightweight Concrete (CLC) is produced like normal concrete under ambient conditions. CLC foam concrete machine is produced by mixing Portland cement, Fly-ash, Stable foam and Water in requisite proportions. The foam contains isolated air bubbles which create millions of unconnected tiny voids in the mix resulting in lighter weight concrete. CLC can be used for wide range of engineering applications as it can be produced in the densities ranging from 300 Kg/m³ to 1600 Kg/m³.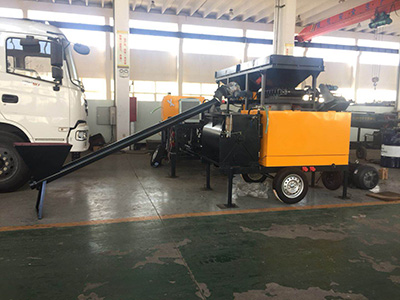 Saving in Raw Material:
CLC Foam Concrete Machine Blocks reduces dead weight of filler walls in framed structures by more than 50% as compared to brickwork resulting in substantial savings. Due to the bigger and uniform shape of blocks, there is a saving in bed mortar and plaster thickness. Considering that a substantial amount of steel is necessary only to carry the weight of the structure, steel requirement might reduce 15 to 18 percent in a project.
Lower Water Absorption:
The water absorption of CLC is relatively lower than Solid cement blocks or clay bricks. It is 8 to 9 % for a density of 800 kg/m3 as compared to 60% in AAC and 15- 20 % in clay bricks and solid blocks.
Considerably Lower Weight:
Weight reduction is obvious in transport, where almost double of volume of building material can be produced; it has an impact on craning, where either larger panel can be taken, or the full capacity in span. Alternatively less re-location of the crane is necessary.
Superior Thermal Insulation:
Thermal Insulation increasingly turns to be the most important issue in the planning and construction of buildings. CLC ensures much higher thermal insulation when compared with other building materials. This reduces recurring cost of energy required for heating and cooling. Better thermal insulation also allows usage of smaller capacities Air-Conditioner than required conventionally.
Easy Workability:
Blocks products are produced in a rectangular shape for internal and partition walls or in shapes as required. The products are lightweight, making them easy to place and secure using less skilled labor. The bricks can be drilled and shaped like wood using standard hand tools, regular screws and nails. It is simpler than brick or concrete.
Enhanced Carpet:
An engineered block, it can be offered in any thickness as per the construction design. By using 6 inch thick blocks in place of 9 inch brick, the customer gets an additional 2% to 3% carpet area. The savings on account of additional carpet area gained is more than the cost of bricks.
Durability:
CLC Block products are weather proof, pest resistant and fire proof. The compressive strength is gained with aging just as conventional concrete.
Insulated Flooring:
As the impact force will not transmit, slabs produced of CLC or topped with a layer of CLC floor screen will prevent any sound being noticed in the room below. Walls of CLC will also serve as sound retaining walls on roads or railway tracks therefore, absorbing the sound and preventing it from bouncing to the other side.
Environmental Friendly:
Manufacturing of CLC Blocks does not have high energy requirements. Since CLC Blocks are made from fly ash – an industrial waste product – generated by thermal power plants, it offers a low cost and sustainable solution for today and tomorrow. CLC Blocks are a requisite for green building.
Leadcrete is one of leading manufacture of cellular lightweight concrete machine in China. We can supply various models with the capacity from 5 up to 30 cube meter per hour.
LD5 is our most hot sale small foam concrete machine. This machine has small size and designed mixer, foam generator and pump together. Very easy to operate and maintain.