Foam Concrete Machine sell to Thailand
2019-01-30 10:12:31
Foam concrete also called Cellular Lightweight Concrete is widely used in building industries in many countries, Such as, Philippines, India, The United States, German, etc. Of course, foam concrete in Thailand is more and more popular.
How to make foam concrete? We need to solve this big problem.
First, we need a foam concrete machine, because this machine can not only produce rich foams but also can mix cement and sand evenly.
We do not need to spend more time to mix slurry and make foams. Just use this foam concrete machine. And we do not need spend much time, this foam concrete machine is more efficient, just about 5 minutes, we can finish the procedures.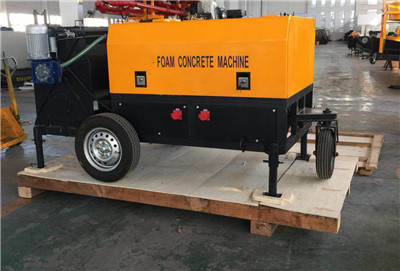 Second, we need to mix the foam and slurry. Using our hands to mix them, no, it is time-wasting and labor-wasting, so we still need a foam concrete pump to do this step. The foam concrete machine can mix the foam and slurry evenly and pump the foam concrete from the outlet of the foam concrete pump at the same time.
Third, if you want to improve efficient, you can choose to match a screw conveyor, let the conveyor to feed cement and sand, time-saving.
In this way, we already have feeding system, foaming system, mixing system and pumping system, it is a full foam concrete production line. Maybe you will worry about you need to get all the 4 parts in different places, it is terrible.
In order to solve this problem, we specially designed a new type foam concrete machine, it has already puts all the 4 parts in one, getting them at a time is more convenient. And if you need foam agent, we can also supply together and deliver to your country.