Small concrete pump pipeline application
2019-01-29 11:01:01
Small concrete pump is one multi-purpose industrial pump developed by absorbing advanced technology from abroad, driven by diesel engine, max. output could be arrive to 7m3/h, working pressure is 35 Bar, so widely used for concrete pumping or grouting and shotcreting work. Today let us know about the pipeline application of machine.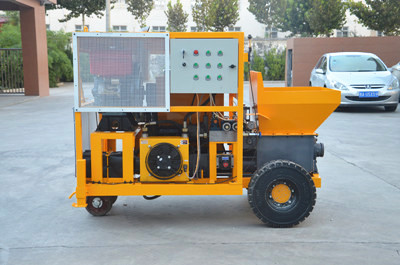 General requirements of horizontal pumping pipeline layout. the pipeline should be as smooth as possible, only use wood and other soft objects to contact and support pipe fittings for pipeline, each pipe fittings should have one solid fulcrum or two.
Pipe fittings should avoid direct friction with rocks, concrete buildings and steel. In the layout of horizontal pipe, should make the pump in a slightly lower position, slightly upward pipeline, and that is most advantageous for pumping. When vertical pumping of concrete at a high height, it is recommended that the first section of the pipes shall be horizontal, equal to about 30% of the length of the riser pipe.
The vertical section should be firmly fixed to the building so that the dead weight does not act on the bottom bend. when pumping down the slope, concrete may slip due to its dead weight because of the different pipe inclination. This can isolate the concrete, making it difficult to pump it down, so it is recommended to add a bend in the middle to avoid the interruption of the dropping.
Increase the resistance of the lower part of the inclined pipe, such as connecting the horizontal pipe of the total length of the lower part of the inclined pipe is equal to 5 times more than the drop of the inclined pipe section, or using the equivalent length of the elbow. It is also possible to connect an turn up pipe at the end of the inclined pipe. If you have any unclear about concrete pump pipeline application, please contact us timely.