Fire resistance performance of foam concrete
2018-02-05 16:14:34
Foam concrete is a very fluid, lightweight cellular concrete fill material, produced by blending a cement paste (the slurry or mortar), with a separately manufactured, preformed foam. The density of foam concrete is determined by the ratio of foam to slurry and densities range typically between 300 and 1600 kg/m3. Sand, pulverized fuel ash (PFA), quarry dust or limestone dust may be used to further enhance the properties of foam concrete.
Fire resistance performance of foam concrete: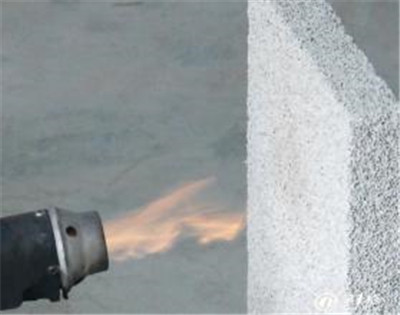 Foam concrete is an inorganic material and therefore unlikely to catch fire. Tests carried out in several countries, including tests to ASTM Standards, show that a load bearing foam concrete slab wall, 15cm thick, has a fire resistance exceeding 7 hours. So, foam concrete is the best external wall insulation materials. Besides, foam concrete also can be use for producing construction blocks, thermal and acoustic insulation of roofs, floors, warming of pipes, production of collapsible blocks and panels of partitions in buildings, as well as floors and basements foam concrete of higher density.
LD2000 foam concrete mixer is our most hot sale foam concrete equipment with high capacity. It includes feeding system, pumping system, foaming system and mixing system. All the procedures are program controlled, very labor saving. This machine has been exported to more than 20 countries only this year, and it is the ideal equipment for making CLC block, wall panel, foundation backfilling, floor heating and so on.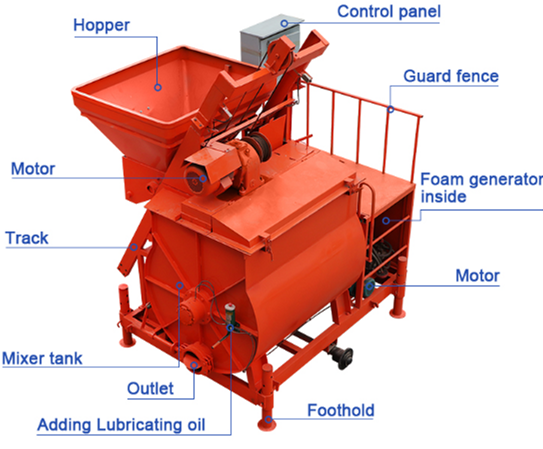 The features and advantages of our LM2000 foam concrete mixer:
1. Control system: concentrated control, easy to operate.
2. Mixer tank: bigger capacity 2000L, each batch can produce large quantity foam concrete, more efficiency.
3. Forecd mixing: foam concrete mixing more uniform and even.
4. Storage tank: used to link mixer and pump, make the working process continuously.
5. Lubrication system: make the machine low failure rate.
6. Guard fence: good safety for workers.
7. Moving system: with wheels, can be moved anywhere easily.
If you are interested in our foam concrete mixer, please feel free to contact us. Email address: sales@leadcrete.com