Grout station for sale with factory direct price
2018-09-17 10:11:06
Lead Equipment designs and manufactures different types of grout stations and grout plant, including half automatic version. The grout stations can be built for different requirement, such as flow rate, pressure, motor power, dust-free, and man-power saving.
It is with a lower grout station price and high quality grout station quality.
With the combination of weighting system for additives and cement, water meter, grout mixer, grout agitator, grout pump, pressure gauges and control system. Trailer type and station type are both produced. The grout station could be designed and built according to customers' requirements. Besides, these grout stations are easy to be transported and compact, making it highly efficient and easily maintained.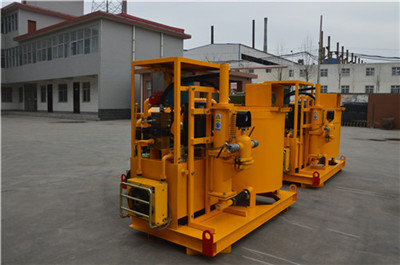 The grouting equipment has the capable of effectively mixing and stirring the grout and forcing it into the grout holes or grout convections in a continuous, uninterrupted flow at the set flow and pressure. The grout station for sale has two hoppers: one is mixer with the bag breaker; one is the agitator without bag breaker.
The grout mixer for mixing the stable mixtures is mechanically operated, high speed colloidal type. And it is operating at the 1450rpm or 1500rpm with electric motor drive or hydraulic motor drive. After mixing, the grout will discharge through a 5mm mesh screen into an agitator. The agitator equipped with stirring paddle to prevent settling and to remove any air bubbles from the mix. The design of the stirring paddle could guarantee a complete circulation of the entire sump content.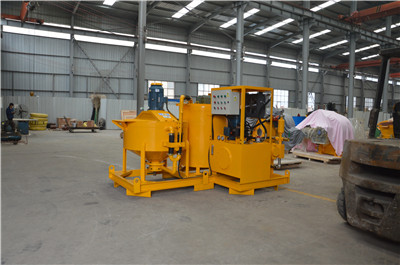 Colloidal series grout station easily mixes and pumps slurries of neat cement, fly ash, and bentonite, micro fine cements and lime flour. It can used in heavy duty, high volume colloidal mixing grout station factory direct price for applications that require colloidal mixing like dams, tunnels, post-tensioning, underground mining and many heavy construction jobs.
Grout recorder system could be added for the grout station system. Grout flow, pressure, max grouting pressure, cumulative grout volumes could be all record and save for future check. This is quite good for the grout projects contractor.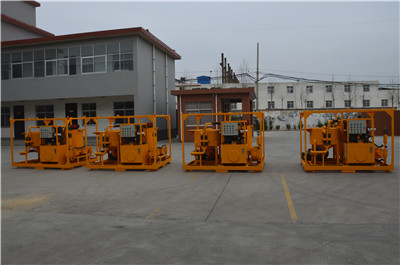 As for the grout pump of the grout station, piston type, plunger type, hose type and screw type grout pump are all provided. As for the piston pump, single piston single acting, double piston double acting and three piston single acting pump could be provided.
As for the grout station for sale, it could be used in following grouting projects: tunnels, mining, dam foundations, soil permeation, soil & rock grouting, micro fine cements, waterproofing, penetration grouting, soil anchors, soil nails, rock bolts, pile encasements, and post tensioning.
We build the right machine for your business. Grout mixer and agitator, grout pump and grout station. The motor power: electric motor, diesel engine and air motor for option.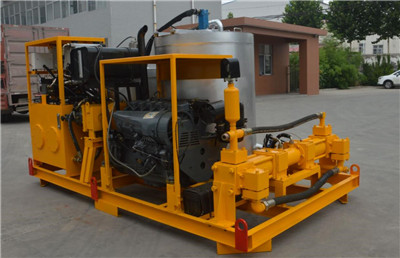 Mixing and pumping technology comprises all of the products which are used for preparing/ mixing solids and liquids, particularly in the specialist foundation engineering sector. In addition to mixing, this technology also includes the conveyance (pumping, storage and injection) of the mixed products. Whatever job you have, the right equipment makes all of the difference when it comes to completing the project on time and at the quality standards your customers are expecting. Let us help you find that perfect fit for your industry. Want to inquiry or order a grout station for sale with factory direct price, please email us: sales@leadcrete.com