Mortar pumps for sale
2018-09-18 11:34:59
LMP3 is a screw pump. It is a continuously working mixing machine, equipped with small air compressor, water pump, flow meter, to spray the dry ready-mixed cement mortar, etc. This mortar pumps for sale permits the easy and comfortable transport due to its small and handy dimensions and low weight. To have a perfect mortar spraying, the diameter of the sand shall not be too big. The max. sand size is 3mm. And, the cement/sand ratio shall be bigger than ≥ 1:3. The cement spraying machine is mainly used in the building construction industry, both inside and outside wall for plastering and spraying mortar, external wall insulation mortar spraying, the materials can be mortar roughcast, refractory coating, large building spraying fire materials, waterproofing coating and so on.
Unique Features of Mortar Pumps
1. The integrated machine with mixer, self-suck water pump, mini compressor and rotor/stator pump.
2. The continuously mixing and pumping machine.
3. Small and handy dimension and low weight, quickly and easily transport even in the most confined spaces.
4. The rotor/stator pump ensures the material is pumped and sprayed out continuously and evenly.
5. The machine always works with efficiency and silence.
6. With air valve remote-control function.
7.The machine consists of portable units, permitting easy to operate and take maintenance and easy to use in any circumstance.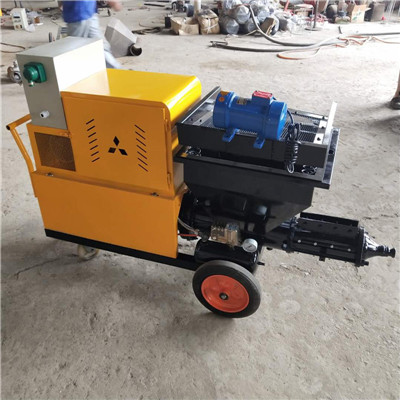 The plastering machines are also called spraying machines, spraying pumps, shotcrete machines, etc. This series of plastering machines are new energy-saving, environmentally friendly construction machinery, researched and improved based on German advanced technology.
Mortar pumps can spray and pump material include all pumpable dry ready-mixed mortars or materials, such as Cement mortars, Lime plasters, Gypsum plasters, Masonry mortars, Insulating plasters, Self-leveling floor screeds, etc. Thanks to our perfect design and outstanding techniques.
We make out this series of reliable, high adaptable, durable and simple spraying machine sets, which are praised by friends of every walk as well as supported and promoted by regarding leaderships.