Diesel mini concrete pump for sale
2018-09-04 14:02:58
Model LMP7/35D is a kind of composite pumping requirements concrete pump with diesel engine. It can be continuously transported to the fine aggregate concrete conveying equipment at the pouring site through horizontal or vertical pipelines. Diesel mini concrete pump for sale is widely used in the second post filling, floor heating engineering, roofing, wall of high-rise building, reservoir and hydropower station, port, wharf, basic processing soft foundation reinforcement grouting subway tunnel backfill grouting bolt support in mine construction.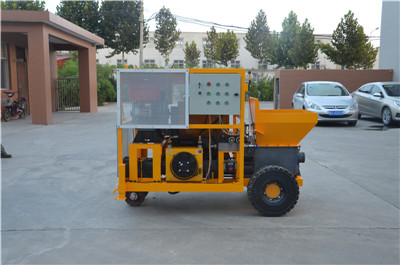 Main features of model LMP7/35D diesel mini concrete pump.
1. The use of the pump power is diesel engine, in under the condition of no power supply still can work.
2. Model LMP7/35D is a small volume of concrete pump, is the ideal choice for many narrow construction environment.
3. The pump light weight, mobile convenience.
4. Machine configuration is high, the hydraulic operation, stable performance, compact structure, low fault rate and long service life.
5. Machine price is materially beneficial, a miniature mortar pump, micro fine stone concrete pump, micro concrete pump for the customer to choose three configurations.
6. Using automatic air compressor piston structure technology, working pressure pumping distance, the height at the pump.
Mini concrete pump for sale is a kind of machine, which is used to convey concrete continuously along the pipeline. And it has played an essential role in conveying concrete. Mini concrete pump is mainly consists of pump body and pipeline. Pump body is to store the concrete, while the pipeline is used to convey the concrete. It can achieve vertical and horizontal pumping and transfer these two pumping methods freely, and will not be limited by the terrible construction condition. Mini concrete pump is also widely used to convey mortar, small aggregates, refractory materials, thermal insulation materials, greening soil in ecological environment construction and plain concrete, fiber concrete in various kinds of engineering projects.