Diesel concrete mixer with pump company
2018-05-02 18:36:33
Diesel concrete mixer with pump introduction application in low-rise construction mortar and fine stone concrete transportation, secondary structural column grouting, reservoirs, hydropower stations, ports, docks, a variety of pressure grouting, foundation treatment, soft foundation, reinforcement grouting, tunnels, subways, mines Backfill grouted bolt support during construction. The product adopts hydraulic type slurry feeding, vibrating mesh filtration and double cylinder reciprocating operation can fully transport all kinds of mortar, fine stone concrete and so on in building application. China concrete mixer with pump has the characteristics of large displacement, high pressure, labor saving, flexible movement and so on. An ideal concrete conveying equipment.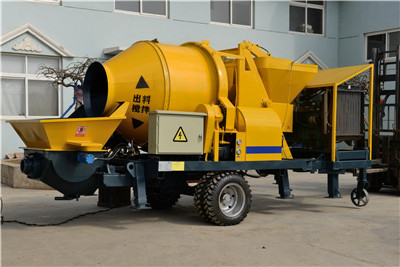 The advantage of concrete mixer with pump company reference:
a: Fully mechanized operation is more than 100 times that of artificially conveyed concrete, shortening the construction period.
b: The concrete conveyed by the pump has good continuity and high transportation efficiency, which saves labor costs.
c: This pump has high efficiency, easy construction and simple operation. It can be poured directly on the floor, which greatly reduces the labor intensity.
d: The pump is high in configuration, good in quality, easy to move, easy to maintain, and low in maintenance costs.
e: This pump uses a 65kW diesel engine, taking into account the problem of no electricity at the construction site.