Customized gunning machine for sale
2019-03-04 10:18:50
The shotcrete machine is a new type of high-efficiency customized shotcrete machine, which is mainly suitable for concrete shotcreting of 5m*5m section roadway. The device is mixed. It has reasonable structure, humanized design, reliable performance, convenient operation and maintenance, and long service life. No dust, low noise and low rebound rate during work. The machine greatly reduces the dust concentration near the machine and the nozzle, improves the working environment of the workers, and reduces the pneumoconiosis caused by the dust. The device has obtained three national patents.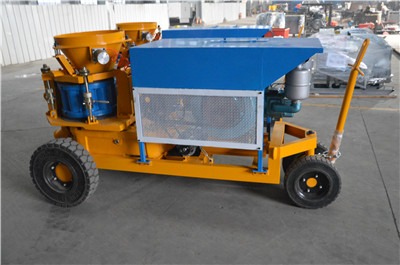 As a tidal-type shotcrete machine, the construction smear is suitable for iron (gong) road ramps, high-rise buildings and diversion culverts. The machine is simple in structure and easy to operate and maintain. Unique compression device. The 10 cavities in the rotor of the sneeze machine are made of special rubber and shaken under the action of wind to form self-cleaning to prevent material adhesion.
Product description of sneeze machine: widely used in engineering construction, mines, tunnels, culverts, subways, hydropower projects, underground engineering and coal-fired high-altitude mine roadway shotcrete construction operations: various types of industrial furnaces, lining refractory spray molding or Repair: soil transport and spraying during various slope protection greening construction. The machine can be used for tidal spray, dry spray and fiber jetting.
The shotcrete machine mainly consists of rotor concrete jet machine, cement slurry mixer, squeeze cement slurry pump, electrical control box, discharge elbow, pneumatic system, mixing device, spray gun and frame.