High speed grout mixer for making cement slurry in Poland
2019-03-02 09:31:23
Our high speed grout mixer was used for making cement slurry for road grouting work in Poland.
High speed grout mixer volume is 500L, power is 7.5kw, agitator volume is 1000L, power is 1.5kw. Mixing time is about 2-3 mins, so one hour could making 8-12m3 cement slurry.
High speed grout mixer was specially designed for continuous cement mixing, used in grouting construction to mix slurry specially; high speed grout mixer has wide application in engineering department of water resource and electric power, coal, railway, traffic, construction, mine etc.in Poland.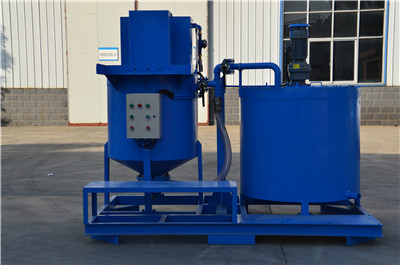 Regularly check the addition of linoleic fat to the drive assembly. When the reversing handle is placed in the vertical downward position, it is the pulping position, and the right side is the slurrying position. Severe wear, deformation, rust in the valve body (the rust is severe, the valve body can be removed when the position cannot be changed, wiped with an abrasive cloth, and the butter is applied). If the seal is seriously affected, it should be replaced in time. Avoid circulating the pump for a long time and prevent the large hard particles or the easily entangled ribbon from entering the circulation pump.
Regularly check whether the transmission assembly of the stirring device has serious total leakage phenomenon, or the discharged cooling liquid is extremely turbid, and replace the fittings according to the degree of wear. Regularly adjust the packing of the pump set to be tight, and it is advisable to use a little dripping of the packing box. Excessive pressing will affect the life of the packing and the efficiency of the equipment. When cleaning the equipment, the bottom of the pulping tank and the bottom valve of the circulating pump should be opened to fully discharge the remaining cement slurry to prevent the hardening from affecting the efficiency of the equipment.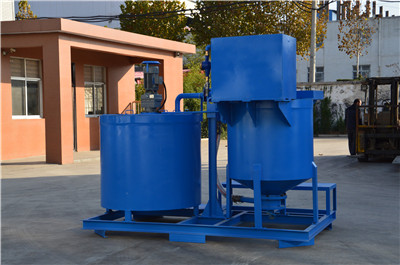 Where could find high speed grout mixer? How to get this high speed grout mixer? Send your inquiry to us. In order to offer suitable type and quote the best high speed grout mixer price to Poland for you soon, please tell us following points in your inquiry, because LEADCRETE Equipment is lead brand of high speed grout mixer in China, now have about seven types high speed grout mixer for option, and we also could customized suitable high speed grout mixer for you, its because we has its own technical team and with research and development ability, could design the high speed grout mixer according to your demands, also could customized color for you.