Colloidal grout mixer for grout
2018-11-16 10:00:21
High-speed high efficiency grout mixer is professional equipment for cement slurry preparation. It is mainly used in hydropower, railway, transportation, construction, mining and other industries. It mixes cement, bentonite, water and its additives quickly forms to an evenly slurry.
The colloidal grout mixers use vortex pulping. Compared with the blade mixer, it has the characteristics of fast mixing speed and uniform slurry mixing.
High mixing efficiency, motor directly driving impeller to get the high-speed liquid flow, it just takes about 1~2 minutes to complete a mixing circle. High-shear colloidal mixers are internationally recognized as the most efficient method of mixing cement-based grouts and other materials.
Colloidal mixing results in very stable mixes which resist bleed and water contamination. If the material has sand, the colloidal mixer will not suitable.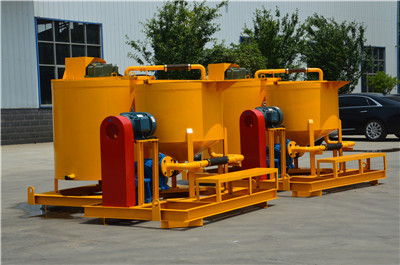 Lead Equipment produces a variety capacity range of colloidal mixer for grout. Standard mixer capacity have 100L, 200L, 300L, 400L, 500L, 800L and 850L.
The mixer tank capacity also acceptable customized. As for the power, electric motor and diesel engine for your option. We mainly have two basic types of mixer; vertical paddle, colloidal type mixer. Colloidal Mixer is a specially built high speed, diffuser-type centrifugal pump for mixing fine grained slurries, such as bentonite, cements, and fly ash.
Water and materials are drawn through the 1500 -2000 RPM pump to break apart and reduce particle size to achieve individual particle wetness. All the components are easily accessible for operating, cleaning and maintenance.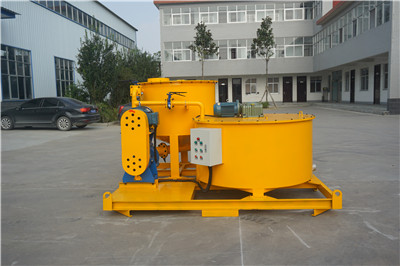 The colloidal grout mixers speed is very fast. Vortex action within the mixing chamber rapidly assimilates solids into the high shear mill, resulting in very rapid batch times. Also, as mixing occurs during the entire weigh cycle, actual mix cycle times are minimized.
Lower to 1-2 minutes. Lower mixing speed grout agitator is also produced by us. Tank capacity size is produced based on the mixer tank capacity. The mixer has the pressure discharge, so the pumping action of the mixer enables rapid transfer of the mixed slurry directly to the agitation tank or final destination.
Mixer and agitator swift could be used by squeeze hose and handle or the butterfly valve. Weighed scale system could also add to your machine when it is needed.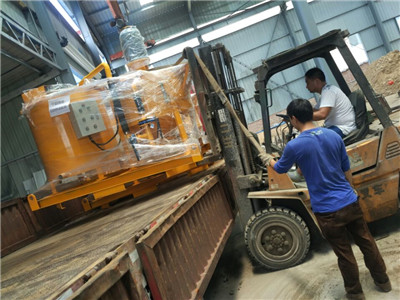 Colloidal grout mixer built to consistently produce high quality, uniform mixes for construction, civil and mining applications.
Various guards, shields, grates and screens are provided over moving parts, such as: sheaves, couplings, augers, paddles, belts, etc. to guard against injury to operators while the equipment is in operations.
Designed for simplicity of operation, efficiency and ease of maintenance, these grouting mixer and agitator machines will provide years of profitable service with minimum maintenance
Each grouting mixing unit is designed for "balance" of grout delivery. If it is a complete grouting unit, its features are always designed to allow the user continuous, non-stop grout capability.
That is, the mixer is large and fast enough, and the storage hopper is large enough to keep the pump "fed" without interruption.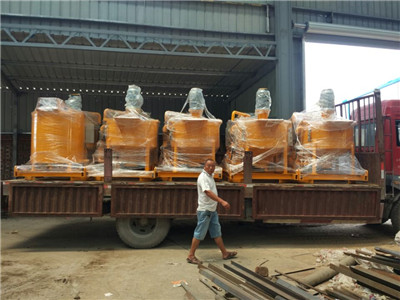 We know grout mixing, some engineers in our factory has over 20 years of experience designing and manufacturing grout mixer and agitator for mining and heavy civil markets around the world.
The finest, most practical, dependable grouting equipment made. For more information about colloidal grout mixer, please email us: sales@leadcrete.com