CLC foam making machine
2021-03-30 17:50:08
CLC foam making machine, also known as foam generator, is a kind of equipment for making foam from aqueous solution with a certain concentration of foaming agent. Foaming agent itself can't become foam automatically, but it can become foam only through the mechanical action of foam making machine.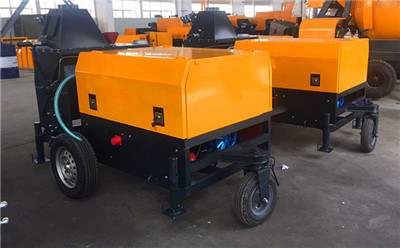 CLC foam making machine first appeared in foreign countries, and its original model used impeller to rotate at high speed to make foam, so it was also called "CLC foam making machine". Later, with the continuous progress of technology, the technical content of foam making machine has been continuously improved, and new models have emerged constantly, forming different technical systems. Foaming machines were used in China as early as 1950s, but mortar mixers were used instead of special CLC foam making machine for sale. That is, the foaming agent is directly added into the mortar mixer or concrete mixer, and the foaming agent is stirred with the mortar or concrete to generate foam. Around 1970s, special foaming agent, namely high-speed impeller foaming machine, began to appear. Since then, the technology has been continuously upgraded and replaced, and now it has developed into the third generation model with high-pressure inflation as the main body, which can basically meet the needs of foam concrete.

CLC (foamed concrete) blocks are used for building cottages, wall insulation in multistory buildings and internal partitions. Also CLC can be produced and poured for floors and roofs on-site. In roofs it can be used because of very good insulating and lightweight. For floors CLC offers faster installation and a less expensive option because of the flowing and self-leveling properties.
Our company offer reliable equipment for producing cellular lightweight concrete and it is very popular abroad especially in Southeast Asia. We offer CLC foam making machine for big productivity, up to 160 m³ of cellular lightweight concrete per 8 hours, with mostly automated operations.
The features of CLC foam making machine
:
1. The foam blending fast, blowing foam uniformly.
2. Without suspended matter, without the declining, it's good for steady pouring.
3. Little loss ratio of foam maintain the foam proportion in the foam concrete to make the products with stability density.
4. No dead angle design, mixing the material toughly, storage in its bottom is less than 10mm, no material left on the four walls internal the mixing drum.
5. It could be mixing variable materials, such as cement, fly ash, sand pulp, sand stone, perlite, and slag etc.
6. Variable speed mixing and internal structure alteration make its installation easy and mixing frequency high, it saves energy.


We are a professional manufacturer of CLC foam making machine. Our CLC foam making machine has been exported to many countries not only because of cheap price but also good performance. If you want to know CLC foam making machine price, please feel free to contact us,
the email: sales@leadcrete.com.