Professional cement grout pump manufacturer
2019-10-16 14:38:48
We are cement grout pump manufacturer, supplier and factory for 20 years. Zhengzhou Lead Equipment Co., Ltd. has 20 years of experience in research and development, production and sale of cement grout pump. We have developed a cement grout pump with leading technology in the industry. This cement grout pump is widely used in various grouting applications and is the most ideal and practical cement grout pump at home and abroad. Cement grout pumps are widely used in pressure grouting, conveying mortar and spraying operations of construction projects and construction products such as highways, bridges, municipal buildings, tunnels, ports, dams, subways, underground works.
The cement grout pump developed by Zhengzhou Lead Equipment Co., Ltd. is divided into two working modes, piston and screw. It can press the evenly mixed cement slurry into the pre-stressed tensioned hole to achieve bonding and anti-corrosion. Purpose; the grouting pump motor drives the reducer and drives the piston or plunger to reciprocate, and generates pulsating pressure slurry through one-way control. It can also be used for grouting reinforcement support of bridges, culverts, mines, tunnels and deep foundation pits.


Although cement grout pump perform well, due to the special construction occasions, regular maintenance is essential to protect their normal use and extend their service life. Here are some suggestions from professionals, I hope this helps you.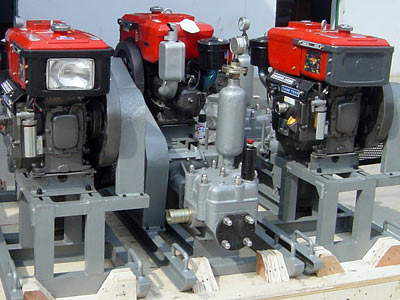 1. When the grouting of each grouting hole is finished or the pump is stopped for a period of time, the head of the cement grout pump head holder should be placed into the water pipe, opened and closed, and the grouting valve should be cleaned for more than two minutes. Until the slurry is discharged from the valve, it is clear to this day. After the grouting is completed, the grouting pump is cleaned in the same manner as above, and then taken out from the tip for 1 minute (the remaining liquid in the grouting pump is discharged), and the power supply is stopped.
2. Remove the valve chamber and upper and lower valve cover, remove the valve seat, valve cover, steel ball, etc., take out the cylinder head and grouting tank, clean the cement and dirt, and then apply anti-rust oil to assemble.
3. The oil cup in the cement injection pump is often filled with lubricating oil to protect the lubricating effect.
4. Always check the thread when connecting the two piston rods. If it is loose, it must be tightened in time.
5. In the cold season or region, the use of cement injection pump, should pay attention to timely closure, release the mud box and valve room and water cooler in the water to prevent frost.
And you have any other questions, please contact us directly, we will help you solve the problem in the first time. Email address: sales@leadcrete.com