Portable diesel concrete pump application

Portable concrete pump relies on hydraulic principle, remote control, and can transport materials such as mortar, fine stone concrete, secondary structure column grout to the required place. The fully mechanized operation is hundreds of times more than manual pouring of concrete, shortening the construction period. Equipped with remote control switch, making operation more convenient and more efficient. The concrete pouring concrete of the pump has good continuity, high conveying efficiency and labor cost. The pump is small in size, convenient in construction, simple in operation, and can be directly cast on the floor, which greatly reduces labor intensity. The pump has a high configuration, a small secondary construction column pump, light weight, secondary construction column pump, convenient movement, easy maintenance, and low maintenance cost.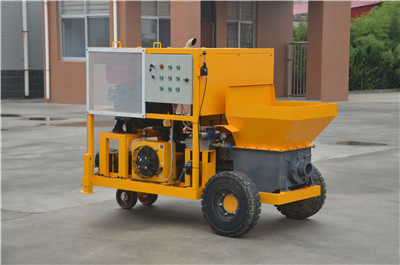 Unique features of mini diesel concrete pump:
1. The special pouring pump for secondary structure fine stone mortar can realize the transportation of fine stone concrete and mortar for long-distance high-rise buildings.
2. The main seals are made of high quality seals to prevent internal and external leakage of the hydraulic system.
3. The distribution valve adopts advanced S-tube valve, which has good sealing performance and simple and reliable structure. The eye plate and the floating cutting ring are made of hard alloy, which has good wear resistance, long service life and convenient replacement. The cutting ring adopts an automatic compensation gap structure.
4. The control mode uses electro-hydraulic control, with perfect electro-hydraulic overload protection and instrument display system; it has anti-pump operation function, easy to eliminate blockage fault; pumping speed can be adjusted to meet various working conditions.

5. The centralized lubrication system is automatically controlled by the program to start and stop and run time, effectively extending the service life of the rotating parts.
6. Electrical components such as contactors and push buttons, reliable operation, simple control circuit, electrical box with switches, easy to operate.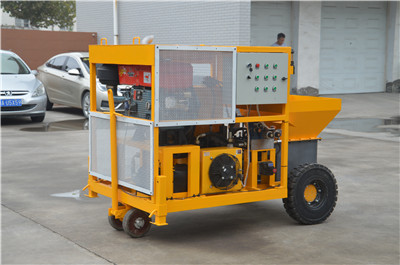 The concrete pump application is used in high-rise building ash mortar and fine stone concrete transportation, secondary structure column grouting, various pressure grouting in the reservoir, hydropower station, port and dock, foundation treatment, weak foundation, reinforcement grouting, tunnel, subway, mine construction Medium backfill grouting anchor support, secondary structural column watering, etc.