Hydroseeding machine used for landscape project
Hydroseeding machine used for landscape project
Hydroseeding machine used for landscape project is based on the characteristics of deep-rooted and shallow-rooted legumes and Gramineae field and local development early and late development. Help users to recommend equipment models according to the actual situation on the construction site, and provide users with technical guidance on construction process ingredients.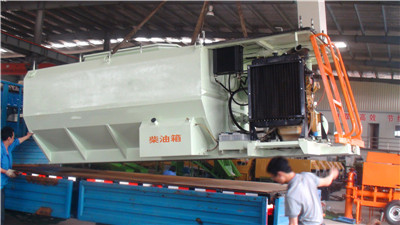 Landscape project hydroseeding machine has become an indispensable choice in slope greening construction due to its large spray thickness, long spray distance, high spray efficiency and good greening effect, whether it is spraying mud, grass seeds, grass fiber and other spraying The material has a good spray effect. Our hydroseeding machine used for landscape project has been exported to the Philippines, Australia, Mongolia, etc.
The importance of the development of the hydroseeding machine: Taking the improvement of the soil structure as a breakthrough, and trying to simplify the maintenance management of highway vegetation. The processed bark, fiber, health materials and plant seeds are mixed with a small amount of local high-quality soil, and nutrients, binders and soil stabilizers are added to make guest soil, which is evenly sprayed on the slope surface by means of a sprayer. (Roller screener, vibratory soil crusher) and other related products.

The performance of the landscape project hydroseeding machine is excellent, so that the tall slopes that do not have plant growth conditions on the rock slopes can be completely greened. The plant grows well and is sustainable. Because the growth foundation is composed of organic matter, various soil improvement materials, chemical fertilizers, etc., it has excellent water retention, fertilizer retention and breathability important for plant growth. Can be combined with engineering protection methods. Under the condition of steep slope and unstable bedrock, lattice beam and shotcrete anchor method can be used to stabilize the slope first, and then this method can be used for greening. Crack, bakelite gasket and gasket seat damage, rubber seal aging deformation, water seal seat cavity wear, wheel hub and pump shaft, key and key slot loose, etc. If the mud pump of the hydroseeding machine is damaged, it will cause failures such as poor self-suction, insufficient pressure, and air leakage, which will cause the diesel engine to overheat and affect the normal operation of the diesel engine. Therefore, it should be repaired and maintained. Uniform sowing, high efficiency, complete the process of fertilization, mixed sowing and covering at one time, less affected by wind force, the speed and quality of turf planting, overcome the adverse natural conditions, can be sprayed on steep slopes where direct seeding is difficult , At the same time, it can resist wind, rain and water. Landscape project hydroseeding machine has many advantages. The need to build a ping under different site conditions is applied to the surface through mechanical energy, which reflects the scientific advancement of biological planting and is a breakthrough in lawn planting technology.