Portable mini concrete pumping machine
2019-09-19 20:17:09
Portable mini concrete pumping machine features: The pump is light in weight and equipped with a walking wheel for easy movement, unique design, convenient movement, stable operation, simple operation and long service life. Pumping the operating system is 10 times that of manual construction, saving time and labor costs and increasing labor productivity. Can be placed directly on the floor for on-site pouring and is not subject to pump height restrictions.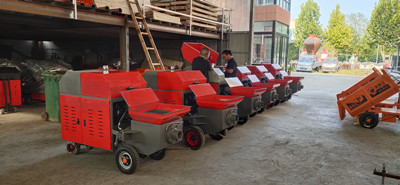 Working principle of mini concrete pumping machine:
1. The mini concrete machine has a double pendulum pumping design with full hydraulic system control.
2. Full hydraulic control reversing hydraulic transmission system, loop optimization design, low heat loss, secondary construction column hydraulic pouring pump operating system is more stable.
3. S pipe valve is cast with high manganese steel, easy to wear surface surfacing and anti-wear material; glasses plate and cutting ring are made of high-hard wear-resistant alloy, pressure and wear resistance.
4. Pistons use imported raw materials, cylinder seals and imported electrical components for key electrical components.
5. The secondary construction column hydraulic pouring pump has reasonable layout and large maintenance space. The design is rigorous, reasonable and reliable, economical and practical.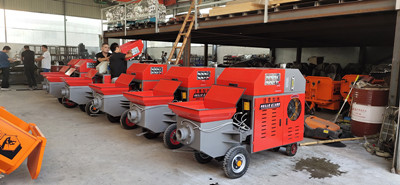 Transportation of fine stone mortar for the industry: Product introduction Application in high-rise building ash mortar and fine stone concrete transportation, secondary structure column grouting, reservoir, hydropower station, port, dock, various pressure grouting, foundation treatment, weak foundation, reinforcement note Backfill grouting anchor support in pulp, tunnel, subway and mine construction. Other descriptions This product adopts hydraulic feeding, and the double-cylinder reciprocating operation of vibrating net filter can completely transport various mortars, fine stone concrete, etc. in building application. This product has large displacement, high pressure, labor saving, flexible movement, etc. Features, is an ideal mortar conveying equipment. If you want to learn more about this machine, please contact us in time.