Plastering machine for ceiling
2019-08-28 11:04:34
The cement mortar spraying machine adopts the advanced screw boosting technology from abroad; the rapid mortar spraying pump which is not affected by the urban and environmental conditions and the shape of the spraying surface has superior quality level. Plastering machine for ceiling is a machine for mixing, pumping and spraying high-quality mortar, special glue; the inner wall plucking machine has almost no floor ash, saving water and materials, and can reduce the cost by more than 20%; the cement mortar spraying machine is mainly used for the exterior wall of the construction industry. Body plastering mortar spraying, external wall insulation material mortar spraying, mortar pulling, refractory spraying, building large-area fireproof material spraying, waterproofing agent spraying and other projects. Our mortar spraying machine basically has no floor ash, saves water, saves materials, can greatly reduce the cost, and is easy to operate, without scaffolding.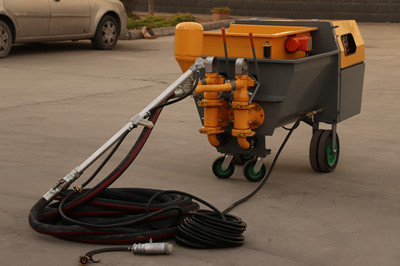 The plaster machine is reasonable in design, small in size, does not require electricity, and is easy to move. Continuous feeding, no pulse phenomenon; wide applicability, can spray dry powder, mortar, can also spray ordinary mortar; uniform spraying, strong adhesion; full-featured, both spray and spray; spray and nozzle connection optional direction Easy to operate. Adapt to spraying materials is less than 5mm: putty powder, paint, latex paint, real stone paint, cement mortar, dry mortar, thermal insulation mortar, waterproof material, fireproof material, heat insulation material, sound absorbing material and other water-soluble materials.
The characteristics of mortar spray machine: This plastering spraying machine for ceiling is an electric piston type high pressure mortar spraying machine with advanced technology, simple operation and maintenance, and can be operated skillfully without special training. The operation is simple, no need to take scaffolding, no mobile equipment, no need to repair the raft, the yin and yang angle, the top plate can be freely sprayed, shorten the construction period, improve the progress, and save the expenditure of the frame material cost. Fast, efficient, and labor intensive, and so on.