Peristaltic pump for pumping food waste
2021-04-02 16:56:01
Peristaltic pump for pumping food waste
As a professional peristaltic pump manufacturer, we were consulted by a company involved in waste management, particularly food waste recycling. The pump they require is to transport a mixed mixture of bran and water. The customer explained that the viscosity of the mixture resembles liquid oatmeal and is a very viscous product. The presence of bran in the mixture also means that small amounts of solids need to be processed without damaging the pump or causing clogging.
High viscosity of the pump medium
The fluid under consideration is not the fluid that can be processed by any pump design. Due to the viscosity and solid load properties of the bran / water mixture, other types of pumps (such as centrifugal pumps) may enter due to "viscous resistance", which can reduce efficiency and inhibit the impeller. Therefore, we recommend our customers the peristaltic pump. It is a pump design that does not come with valves or impellers. The only part of the peristaltic pump that comes in contact with the fluid is the inner tube, which is very suitable for most liquids including solids.
After reviewing the flow and pressure requirements, we provided a peristaltic pump with a gear reducer to allow the customer to slow down the motor to the required flow at that time. This avoids unnecessary work at full load, extends the service life of the motor and reduces energy wastage.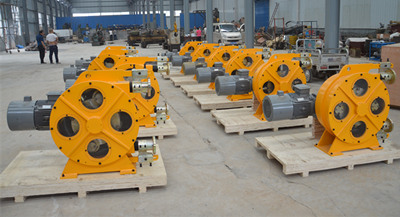 LH series industrial peristaltic pumps for pumping food waste mainly consist of pump housings, rotors, rollers, idlers, compression tubes and drive units. The compression tube of the pump body is U-shaped and the tube deforms when the rotor rotates the rollers. After the rollers rotate, the deformed tube recovers due to its elasticity. Therefore, a negative pressure is generated in this tube, sucking the suspension and discharging it from the outlet under the roll recess, eventually forming the pressure transfer of the suspension.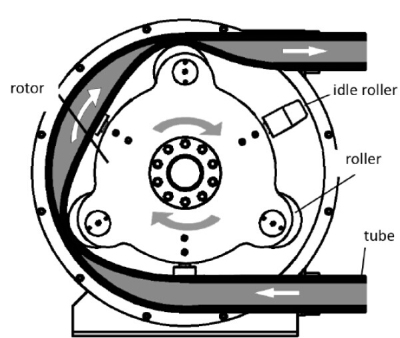 Our peristaltic pumps for pumping food waste have many advantages such as high quality, ease of use and competitive price. The compression tube is the only worn part as the material is only in contact with the compression tube. Once the hose is worn, it will take 15 minutes to replace the hose and keep working.

We are currently developing a complete series of peristaltic pumps with dozens of models, operating pressures from 0.6 to 3 Mpa, flow rates from 0.01 to 54m3/h and customizable NR, NBR and EPDM hoses.


If you are interested in our peristaltic pump for pumping food waste, please contact us freely, sales@leadcrete.com.