Mini electric concrete pump application
2018-01-23 17:47:30
Mini concrete pumps rely on hydraulic principles, remote control, transportable mortar, mortar, fine aggregate concrete, secondary structural column grouting material and other materials transported to the desired place. Full mechanized operation, is manually pouring concrete hundreds of times, shortening the construction period. Equipped with remote control switch machine, make the operation more convenient and more efficient. Concrete pump application pouring concrete continuity, transmission efficiency, saving labor costs. This pump is with small size, easy to move, simple operation, the floor can be poured directly, greatly reducing labor intensity. The pump configuration of high and small secondary structural column pump, light weight, secondary structure column pump, easy to move, easy maintenance, low maintenance costs. Small concrete pump application uses very low power only 15KW, an ordinary generator set to solve the problem of no power access.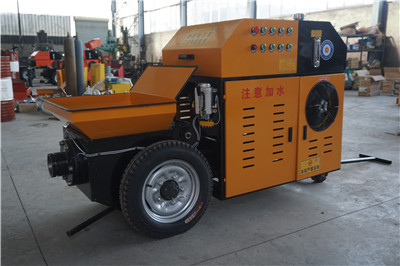 Electric concrete pump application
: used in high-rise building gray mortar and filament concrete transportation, secondary structural column grouting, reservoirs, hydropower stations, ports, terminals in a variety of pressure grouting, basic treatment, soft ground, grouting reinforcement, tunnel , Metro and mine construction backfill grouting bolt support, secondary structure column watering, and slope spray anchor support, by virtue of its powerful features and a wide range of uses, recognized by our customers.