Mini electric concrete pump working application
2019-04-09 10:54:49
This mini concrete pump is motor driven, pumping system adopts open oil circuit, constant power control, with hydraulic pressure stepless adjustment of output power. The concrete cylinder outlet is connected with the hopper, one end of the distribution valve is connected with the discharge port, the other end is connected with the swing arm through the spline shaft, under the action of the swing cylinder, it can swing left and right. In reversing pump, the concrete cylinder in the suction stroke is connected with the distribution valve through reverse pump operation, and the concrete cylinder in the pushing stroke is connected with the hopper, so as to pump the concrete back into the hopper in the pipeline.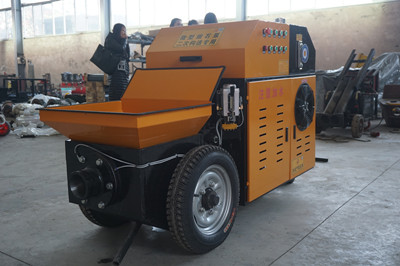 When electric concrete pump work, please note that when the ambient temperature is lower than 15 degrees Celsius ,should be warming the machine , that is, start the main motor to drive the gear pump empty operation for a period of time to make the oil temperature rise. When the oil temperature is greater than 40 degrees Celsius ,should open the fan motor of the air cooler, when the oil temperature in the wind cooling condition is greater than 80 degrees Celsius ,should stop in time to check the cooling. Also when the feeding can't keep up with it, stop pumping at any time.
After pumping operation is completed. This machine can use the direct pumping water method to clean the pipeline, its operation method is as follows: after the end of pumping, disassemble the pump outlet vertebral canal to clean. Then the sponge ball is loaded into the spinal canal, the hopper door is opened to release the residual material in the hopper, and the residual material in the concrete cylinder is discharged by the reverse pump. Concrete pump working application is very easy. If there is anything we can do for you, we will be pleased to do that.